Kings of the Desert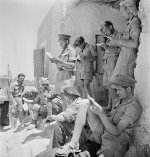 Wed, 16 Oct 2013
2 likes
The embat blew and the plague left
human debris on a Cairo street.
We arrived in motor cars, on motor cycles,
in clothes lacking belts and buckles,
blue-eyed bearded men:
strange bedouin
dry-mouthed from the dust
of the desert, at last
left behind for a night or two
where the houris know
what a desert rider needs.
Two bottles at a time,
Stella as always came
to our rescue, slaking thirsts
as lime-dry as strip-mined karsts
in other distant lands.
None were sick for home,
sleep on a shifting dune
and roots are moot;
dine on desert goat
and there is no other meat.
So in stale hotel rooms
far from star-illumined skies
some slept on wooden floors
and lay awake to the sounds of the city.