Kites and Knives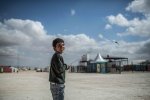 Mon, 24 Oct 2016
I've brought a kite. I've read that book. You must know the one. Anyway, what I mean is, surely a kite has flown in Aleppo? In Mosul, in Darfur, in Sirte? In Sub-Saharan Africa and in the seat of civilisation. We try not to make it like… Well, you know. We need them to trust us. It's not an interview either, of course not. You cannot interview a child. That would be ridiculous. And they are children. John, my line manager, told me before I came out. I took the call in the lobby of the Hotel. My partner laughed when I packed the kite, last week. Said it probably wouldn't get here in one piece, but it did.
So, of course, that's why I laughed with the Border Force, too. How did we get to that, by the way? All the way from Customs & Immigration with their ink-pad and official stamp to a Border Force with flak jackets and Heckler and Koch pistols, I mean. When I was young we used to laugh at countries where everyone wore uniforms. Who would have thought France would tolerate British uniforms on their side of La Manche?
I turned the flak jacket down. The slightest thing can derail the process. As I said, it's not an interview. There are twenty-five on my list today. From the usual countries. Eight to Eighteen. The kite is for the under-twelves, who are about half of my out-take today. I hope the young adults are manageable. I'll be seeing them last, on neutral ground at the ISO container belonging to Médecins Sans Frontières. I'll have my whistle and the BF's HQ – another ISO – is only a few yards away.
We always see the pre- and pubescent boys where they live. If they are genuinely unaccompanied, with no 'Uncles' in the background, they might be under the kind of makeshift shelter that I remember making in the garden as a child. There is no warm kitchen to go to at nightfall, however.
Two boys of fourteen turn out to be brothers. Once they let that slip, they know that the bus awaits them. For they are not alone, are they? I don't like to think where the buses go. At least they are not trains, though I sometimes think, whatever that means to me, it doesn't matter to the boys at all.
I am a facilitator, that's all. I have a degree in paediatrics and also one in child psychology. We try to make the process as painless as possible, but we make sure the quotas are strictly enforced. I used to work with Jane, when we always worked in pairs. A government review found that lone facilitators completed more processes successfully. I told only the truth in front of the panel. In any case, I thought she would get a reprimand or something. The thought of her becoming an un-P never crossed my mind. Last month, I was sure I saw her down by the food bank near the town centre, back in Dover. It wasn't her, but the sight of a woman our age wearing the badge upset me. The black cross negating the flag. Still, it's one's duty, isn't it? To do the right thing.
Right now the right thing is to process the last of these boys, before I go to MSF's ISO, for the YAs. Remember when only the military spoke in acronyms and abbreviations?
There's a sleeping bag and some ragged blankets in a heap below a bare-branched tree. It's a weakly thing and I can't tell whether it's an ash or an oak or a silver birch. The boy looks about 8-years-old. I look inside his mouth, not too much decay, several milk teeth still in evidence. He looks fit, healthy. No rickets, but he lives outside, under a tree, in Northern Europe, so that's no surprise. There are no forms to fill in, none at all. I have one of those clickers in my pocket that cabin crew used to use, when you could fly to Rome or Cairo for the price of a cheap bicycle. Jane used to say that the bus's first stop after process was to a tattooist. Perhaps she did deserve the badge, after all.
I show the boy the kite. He shows me the knife in his hand and then closes his fist round it. I offer the kite to him, shaking the strings toward him.
He flies the kite, never taking his eye from the bright coloured shape. There is wind, but not too much. One hand clasps the knife and one of the strings and the other just the string. He flies the kite well despite this handicap. According to his file which I read in the hotel, the boy is a Kurd. A report says his mother died somewhere in the Balkans and that his father jumped over the side between Crete and Italy, and perhaps they did. This file and all the others I read last night are burning in the cellar of the hotel now. There must be no paper. I often wonder if it matters. If there are inter-departmental e-mails and badly purged hard drives waiting to judge us as others were judged by the papers they filed. I talk to him about Kurdistan in English, he hasn't said a word since my arrival. He may speak English, he may not. It has no bearing on the process.
I wonder about the knife. Was it his father's? Did he give it to him, before his last swim? Does he ever let it go? I should take it from him, before he boards the bus. The BF guard by the bus will not be gentle if he finds it. They never are.
The wind rises, a sudden fierce gust as if God has given his most exasperated sigh. The strings are torn from the boy's hands and he drops the knife. I pick it up. His eyes are transfixed on the Kite trapped in the topmost branches of the tree. He looks up at me. I shrug.
Sometimes I think that Jane's Negated Flag might be a badge of honour. I take the boy's hand and lead him towards the bus, but not before I hide the knife in his parka pocket.