The Last Vagabond King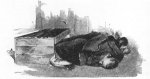 Fri, 08 Apr 2016
1 likes
The Impossible King
On the shores,
the rugged shores,
the old man kisses
his own fingers - bare of rings -
and kneels by crab-filled rock pools,
ignoring the schools of dolphin
bowing as they leave the water.
At his side,
his sinister side,
the chamberlain Kay
wears a daisy chain of office
over a frayed fertilizer sack
that covers his dowager's hump,
scratching ill-healed battlefield scars.
Yet the tide,
the roiling tide,
brings eternal plastic flotsam
and never-paired boots, sandals
or the shoes of the fisherman,
leaving cargo-cult symbols
lying useless on the pebbled beach.
The King at Court
In the dock,
at five o'clock:
seer's beard , long shaven
standing tall, not craven.
Dignified,
staring-eyed,
before the law.
Tooth and claw
bared in rage,
before the cage
opens wide
'Go inside,
your majesty'
in travesty and jest.
The noble head will rest.
Camelodunum
A false night falls as street lamps ignite later than planned.
The town illuminates haphazardly; the message
passes from lamp-post to lamp-post
- with some Chinese-whispered mutation -
as on is mistaken for off.
They sit in the round -shivering- beneath the underpass,
dining on the bounty of Tesco's refuse containers.
From Romania, Rwanda and Rio,
via every underground station,
they come here to Camelot.
A once and future kingdom lies buried in shadows,
hidden from beauty and the clean light of the sun
Arthur is a Fisher King-
or any fitting appellation,
for the King of Forgotten Albion.