Liar's Kingdom (7) Moderato Cantabile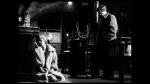 Thu, 31 Mar 2016
Cerberus has several of my scripts in his clutches.
'As I was saying, I am a character, there will be conflict et voila! You will have plot, something sadly missing so far in our story. He holds up my meisterstuck, 'The Wizard of Daz'..
This is one of my favourites, as always I have cast the rôles. Why not? They will never be filmed. In brief, magician Paul Daniels (Tony Curtis) has been employed by J Walter Thompson for a televisual advertising campaign for Proctor and Gamble, (Cannon and Ball). Housewives who accept the Doorstep Challenge begin disappearing or being brutally murdered by being sawn in half. A crack(ed) Metropolitan Police team; Detective Sergeant Dorothy Gale (Julian Clary) , DCs Leo Coward (Bruce Willis), Tim Mann (Arnold Schwarznegger) and Oscar Crowe (Sly Stallone) spend many scenes interviewing everybody bar the culprit until he finally gives himself up to Dorothy over a pink gin in the local pub, The Emerald City, just off Yellowbrick Road. Technicolor, indeed.
'This has plot. It is not a good one, but...'
'What?' I say.
'We need a motor, a causative, a McGuffin… WE NEED SOMETHING TO HAPPEN!'
'I don't get it', I say, but really I'm finding his loss of control quite funny.
'You've been banished to this basement. You lack curiosity about why. About how the cabinets work. About anything!'
He's right. I've lost all curiosity about anything since before I shed the uniform. I think a question may keep him happy.
'What do you call someone who keeps changing into a dog? Is it still lycanthrope?'
Cerberus snaps his teeth and – well – barks. The hump moves a little. I forbear to ask him if he has the hump with me, but he notices my smirk.
'You cretin! You are the protagonist. Do something!'
I reflect that I've already done something, the evidence lies in one of the drawers, head mashed in with an adjustable spanner. I wish I still had the spanner, but can't be bothered to reach into even the nearest drawer. Instead, I quote him some Sartre, which proves that you can't always be wrong, all of the time,
"All existing things are born for no reason, continue through weakness and die by accident…. It is meaningless that we are born; it is meaningless that we die."
This time he howls,
'If there is no narrative, there is no meaning.
'We're in agreement then', I say.
He looks most put out and there is a distinctly doggy smell about him although he seems mostly human in shape for the time being. I decide to make conversation.
'You like this stuff?' I jerk my thumb over my shoulder at the source of the noise.
'The machine?'
'No, the noise it makes.'
'It's making a noise?'
There's a loud and disturbing ululation. It's me. I've never heard one but I think I've just uttered an existential howl.
Cerebrus remarks that he hasn't heard a noise like that since God died, and furthermore the machine isn't making any noise at all, much less one like the noise I have just made. I wonder if I could strangle him before he turns back into a large dog and runs off again.
In any case, I am now speechless, which does not help with the conflict business that my quasi-canine friend is so concerned about.
A woman is approaching us down the row of cabinets leading away from the machine. Not British. Not beautiful. But… what's that French phrase? Jolie Laide, that's it, even sounds like a foreign film star. Looking at her clothes, she should be in black-and-white. It's Jeanne Moreau and that's why I'm speechless. I hope Cerebrus doesn't decide to pull out "The Island of Jeanne Moreau" from among my scripts.
Speaking of Cerebrus, he is gabbling,
'Enchanté, Charmante, Je suis -'
I can't understand any more of his French, distorted as it is by his tongue hanging out. I do hope we are not going to end up as Jules et Jim, at least there'll be some conflict, if we do