Listen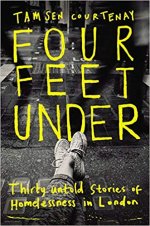 Sun, 11 Nov 2018
Listen,
they are gone.
Bones locked in mud,
turned to soil
and fertilising fields
or under carved granite.
I remember George,
Dad's eldest brother
crying for mother,
mind locked inside,
self turned inward
and hiding from ghosts.
Look! There!
Outside Tescos,
with tarnished medals,
in combat clothing
camouflaged better here,
than in the desert.
Cheers, thanks
for remembering
the dead's sacrifice,
while you walk past
the faded poppies
under your nose.
The book in the image is available here. Raising awareness like this is one of the best ways to help the homeless.