Others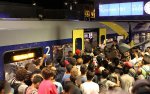 Sun, 18 Oct 2015
The echoes vibrate,
we detach ourselves,
admiring the sleek lines of the train,
preferring diesel-electric over steam.
We forget the carriages and wagons
once filled with the same cargo,
the others, the othered
crammed into rolling stock.
The voices orate,
we demean ourselves,
demanding our clean lives should remain,
preferring simple hatred over love.
We forget the barrages and bombings
once launched at their countries,
the others, the othered,
smashed on Empire's rock.
The foolish debate,
we delude ourselves,
believing the bleak words of liars,
deriding basic virtues over hate.
We decide on barricades and ghettos
once built on far-most edges.
The others, the othered
drown in the map's blue.