The Picture Ranch 12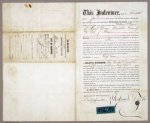 Wed, 10 Aug 2016
I parked the Buick opposite my office, as far as possible from the fire hydrant. An old mutt was lifting a leg on it as we passed. He'd probably come a few miles to do it, since he looked like he couldn't lift that leg very far. My plan was to have a look at what Miss Gräfenberg's brother had left us in his rented box. We went up to the office. The glass had been boarded over. I was thinking of painting it and putting up a brass plaque. I opened the door and held up a hand so Eleanor would wait while I gave the office the once-over. My client came in as soon as I gave her the high-sign. Then I called Schultz and said he could come and collect his wheels. He said he might drop by. I hoped he wouldn't.
'A clever kid, your William.' I was holding up the bourbon and a glass.
She shook her head.
'He ain't?
'No, may I have a glass of water. And yes, he is clever.'
She pointed at the desk, 'May I have the letter?'
Young Mr Mulvaney had written "To Whom..." on the envelope. Like that, with those three dots where the writer doesn't quite know how to finish the sentence.
'I guess you could be whom, I kinda thought whom was me.'
I retrieved my last bottle of rum from the tank in the john, then filled a glass from the faucet.
She was reading the letter when I got back. The writing was on both sides of the paper.
'What's it say?'
'It's about the deeds.' She held up the legal papers.
'Don't tell me what they say. They never write 'em in American. What's he say about the deeds?'
'He stole them, he says. From his adopted father.'
'Why'd he do that?'
'I don't know, we might have to read them to find out.'
'You might have to,' I said. And the door hit the filing cabinet on the back-swing.
It was Schulz, he'd brought Lipowitz. Maybe for muscle, or maybe because the big palooka had already been let out on his own once that week.
'Come in, there ain't no chairs or I'd ask ya to sit down.'
'Are you still sore about the hardware in the Buick? C'mon. Two birds and all that jazz.'
Schultz motioned at Lipowitz and the big guy closed the door and stood in front of it. It made the boarded over hole look better, just.
'No, Schultz, I ain't sore. I just don't like being the patsy.'
Miss Gräfenberg was staring at Schultz. Then she nodded once at me.
'You got relatives over Carlsbad, Mr Schultz?' I smiled to show it was a harmless question.
'What's it to ya? You got another glass in this hole-in-the-wall outfit?'
I took another shot glass out of the desk drawer,
'Bourbon or rum?'
'I'll take a rum.'
Meanwhile, Miss G had put the title deeds and letter into her purse. Schultz downed half of his shot and coughed a little.
I lifted the bottle towards Lipowitz, 'What about him?'
'He took the pledge after a nickel in the joint. It was a tough deal for knocking over a liquor store, didn't even have a gat. Just a threatenin' aspect.'
Schultz laughed which brought on another cough.
'So, what's the low-down? What have you and the lady been doing down in SoCal?'
'Chasing our tails, mostly.'
The gangster picked up the rum bottle and poured himself another slug.
'Funny question about my family. I got a brother down in San D. A realtor, matter of fact. Why you askin'?'
'That's confidential.'
Miss Gräfenberg spoke up, 'Do you have a nephew?'
Schultz's grin looked like he'd just spotted Little Red Riding Hood on her way to Grandma's.
'Maybe that's confidential, too.'
I stood up. 'Your nephew's mixed up in something. You should maybe look out for him.'
'I already am. He don't know nothing.'
'What do you know, Mr Schultz?'
Eleanor Gräfenberg looked quite shocked, but I'd told her I wasn't a good detective, just lucky some of the time. Schultz knocked the rum bottle to the floor and nodded to Lipowitz. The mobster turned in the door,
'Look out for my nephew and maybe I'll look out for you.'
Miss Gräfenberg wanted to tidy up the glass but I did it myself.
'Where's your brother, huh?'
I picked slivers of glass out of my fingertips and wiped the blood away with my pocket-square.
'He doesn't say. He just says 'don't come looking' all over again. There's something going on over in Encino. Maybe land, maybe water, surely fraud. Worthless land all around RKO is being bought up. Schultz's brother might be involved. My brother doesn't say.'
Her shoulders slumped. I looked away when they started shaking. When they stopped, I asked her for the papers. I took the letter but passed on the deeds. There was a shyster two blocks up who might make sense of them. Mulvaney Jr's letter was full of the same hi-falutin' words, but I gathered he was in hiding and in no mood to come out. I found out why Miss G had tipped me the wink about Schultz. The letter said to keep William's friend Andy Schultz out of it. Mulvaney himself had stolen the deeds from an unattended briefcase whilst on a visit to the Schultz family home. The parents hadn't been there and Mulvaney just happened to be in the master suite and he stole the papers while Schultz Jr. was in the bathroom.
I didn't believe the details. But the letter made me think. I wondered how long the boys had been lovers and, if Miss G had guessed too, whether she cared.
She yawned, 'It's late, I'd like to go home now.'
'Sure. I'll meet you for coffee and apple-pie at the fountain in the Encino Store at 10.'
'10 o'clock? So late.'
'You know why it's called beauty sleep? 'Cause some of us get real ugly if we don't get enough.'
'Fine.'
I looked out of the window. Outside Encino's street-lamps outshone the stars and a lone siren counter-pointed the traffic noise. I told Miss G I'd call her a cab and she said she'd wait for it in the building's doorway. If I'd been a gentleman I'd have escorted her down.
And things would have turned out different.