The Picture Ranch 25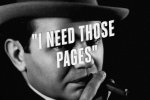 Fri, 26 May 2017
Miss G didn't say much on the way to The Picture Ranch. The windows were down and the Ford was noisier than a trash can falling down a tenement fire escape at the best of times. I was glad, my mouth was still sore and so were a few other things. The same old pretend copper was at the gate. He looked in at me briefly, but recoiled at the smell coming from the vehicle. I guessed he hadn't moved so fast in twenty years. Nevertheless, he'd recognised Eleanor and he held two fingers up to his fake policeman's hat while he waved us in. Eleanor drove on in, past the office building where maybe she still worked, towards one of the warehouse-type buildings to the side of the main drag. Out the rear window I just caught sight of the fake copper's hand coming away from Schultz's driver-side window. Maybe he was looking for a handkerchief in his pocket after a handshake, but I doubt it. Guess he didn't get paid much anyhow. We pulled over. The gal in bib-and-braces shook Miss G's hand and ignored me altogether.
''Eleanor, where have you been?'
'Busy, Jesse. We' re just going to borrow something from costume.'
Jesse sniffed at me, then regretted it.
'Not sure if you should put him or his clothes in the garbage, Eleanor. Don't tell me you bin busy with him?'
She jerked her thumb at me.
'I cain't b'lieve you missed Dottie Arzner's wrap-party over at Paramount for that.'
'They're not even crediting her, you know.' Eleanor's mouth twisted, but she wasn't smiling.
'Joanie said no, you know how it is.' Jesse shrugged and one of the straps fell off a shoulder. She pulled it up dragged the toe of a gym-shoe across the dusty floor and looked up at Miss Gräfenberg,
'I seen ya, or not, if somebody comes askin'?'
'Tell the hoodlum he can wait outside, we'll be out in under a half-hour. Come on, Mr Fisher, let's make you presentable.'
Jesse lifted her eyebrows at me, and I knew what she meant.
I ain't ashamed to say that Miss G cleaned me up all over. Nothing embarrassing came up, it had taken a long time to get that burning cigarette off of me. I tried to think of an RKO movie George Raft had been in, because the duds I had on sure looked like his style – and not at all like mine. Jesse had made herself scarce, we walked out into the sunshine where Schultz was leaning against my car smoking a cheroot.
'I need those pages.'
'Help us find the boy and you can have 'em.' I said.
'Why would I do that? The boy bein' an interested party an' all?'
Miss G laughed, 'someone in your family has an interest in keeping my brother safe.'
Schultz's face turned redder than the figures in my checking account.
'I wanna see those papers, then we'll dicker, Miss.'
'That will not be acceptable, Mr Schultz. We'll be leaving now.'
'Yeah,' I said, because I wanted to feel like I mattered.