The Picture Ranch 26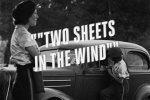 Mon, 29 May 2017
We drove off. Schultz and Lipowitz followed in their car.
'I guess Schultz didn't tell Lipowitz.'
'About the fire in your office?'
'Yeah,' I watched her switch her eyes from the road to the rear-view.
'I thought we'd save that information until we need it.'
The Encino Store was open, of course. Henry slept on a cot in a room out back. He shut at 10.00 p.m. and opened at 4.00 a.m. on weekdays. Truckers stopped off for a fried breakfast that Henry's short order cook had learned how to cook in the Navy. Henry liked the company and keeping an eye on the cash register. Henry used to send the cook home at 11, he reckoned anyone who wanted breakfast after that was either too rich or a bum. Schultz agreed to wait outside as long as Miss Gräfenberg stayed with him and Lipowitz came in with me.
'Hey, Henry! Got a coffee for me and the palooka here?'
Lipowitz grunted, and Henry said the coffees would be "comin' right up." Then he went out back, where I hoped he was hiding the pages I'd left with him and bringing out something that would fool Schultz for long enough to help us find the boy. The old geezer put two faded and quality rag sheets of paper on the counter. The ink had faded, I caught sight of the words "David O. Selznick" next to a barely legible scrawl at the bottom. Henry put out cups and went over to snag the coffee pot. He looked at Lipowitz. There was a cup and saucer on either side of the two sheets of paper.
'Cream? Sugar?'
'Lotsa both'
Henry poured the coffee, then went over to get the cream and sugar. He poured the cream and dropped the sugar caster onto Lipovitz's cup. The papers were soaked.
'Damn,' Henry said. I'll hang em over the grill, they'll dry out in five minutes. Wuz they important, Fisher?'
Lipowitz, showing more initiative than I believed he had, was on his way out to give Schultz the news. Henry winked at me,
'Can't read 'em. No weepin', huh?
I hoped Schultz was dumb enough to fall for it, at least for as long as I kept hold of the sheets.
Henry cleaned up the mess and I drank my coffee. Schultz would come in, or he wouldn't. I figured Eleanor would be safe out the front, as long she stayed out of Schultz's car.
Schultz came in on his own. I guessed he'd told Lipowitz to keep Miss Gräfenberg outside. I hoped she wouldn't need to tell Lipowitz the truth about what happened to his Aunt Rosa. It was sure to be better to divide and conquer later.
'I toldya I need those pages, Fisher.'
I pointed at the pages pegged on the short-order line above the grill. Drops fell and hissed on the hot metal, the smell of burned coffee would stay in the Encino Store all day.
'There they are. I'll take them just as soon as they're dry.'
'You mean I'll take them, doncha?'
'We had a deal, Schultz.'
'The squeeze is still out there with Lipowitz.' The gangster jerked his thumb over his shoulder at the store-front window, where I could see the goon smoking and Miss G talking.
'You don't wanta leave him out there too long,' I said.
'Tell ya what, whyn't we leave those pieces a' paper dryin'? Maybe we can work somethin' out.'
It was a better outcome than I expected, but that was when Lipowitz came in,
'Whyn't ya tell me it was those no-goodskis? Aunt Rosa ain't well, Schultz!'
The big guy had Schultz by the throat and was keeping him on tippy-toes. It must've hurt his calf muscles and he didn't look like a guy for the gym. I cold-cocked Lipowitz with the Colt and it shot a hole in the plaster ceiling. Henry laughed.
'You're more fun than the movies, Fisher.'