The Picture Ranch 57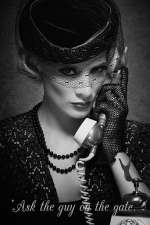 Tue, 16 Nov 2021
I parked in an empty lot on the outskirts of Encino, just after West Hollywood. There was a call booth a quarter mile back. Before the turn off onto the no-maintenance dirt road. As far as I could see the empty lot was the dirt road's only destination. Shanks's pony got me to the 'phone and I dialled the Encino number. Someone answered Encino 361. I'd thought about what to say on the way.
'I got it. The merchandise. Where do you want it?'
'Is it all there?'
'Why'n'cha tell me how much you're expecting? How about that?'
'What we paid for. A hundredweight.'
I could have bluffed it and said that I had it all. Maybe he was bluffing, too, but I doubted it. Or I could do what I did. I told him there were only 50 one-pound bags. There was silence on the other end of the line, maybe someone was having a conversation, but I couldn't hear it.
'So it's two deliveries?' a different voice came on the line.
'No one told me,' I said.
'No, I guess not, at that.'
I thought I heard the sound of a fingernail tapping on the receiver.
'Bring what ya got to The Picture Ranch, you know where that is, right?'
'Yeah, but -'
'Take it out to the ranch proper, ask the guy on the gate.'
I barely got out the 'sh' of 'sure', before the woman hung up. I didn't recognise the voice, but whether it was Miss or Mrs, it must have been Caruso. Nobody mentioned the name Rogers and I wasn't sure whether that was a good thing or not.
After making another two 'phone calls, the walk to the empty lot seemed longer on the way back. I chain smoked the last three Luckies in the pack, whilst wondering who had hired Rogers and how they even knew I would be hitch-hiking back to LA.
I swung by the Encino Store on the way out to RKO. Moose was at attention as the truck pulled up. I leaned over to open the door and Moose folded himself carefully into the cab. He looked about as comfortable as the circus strongman in the clowns' car. Moose turned his head to look at me,
'We fightin' or talkin' today?'
'Damned if I know, Moose. You're sitting on a fortune's worth of fairy dust.'
'Talkin' and then fightin', I reckon.'
Yessir, I really had underestimated Moose for the entire time I had known him.