Playing the Cocks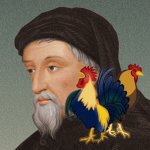 Thu, 11 Nov 2021
Hear them,
the big talkers,
the tight-rope walkers
dancing along the line of legality.
Below,
a safety net,
the double-hedged bet
saving them from plebian impecunity.
Do they
see us scurry,
the tiny unimportant in a hurry,
earning less than claimed gratuities?
Damn them,
the fake boosters,
the ever crowing, lying roosters,
playing the cocks with bold impunity.