We Are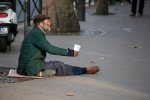 Thu, 21 Dec 2017
We are the silent pejority,
beneath contempt,
beneath a blanket of scorn.
We are all the bad eggs
in one basket:
the deplorables.
We are the sidelined mutes,
without the words,
without the gifts you have.
We are yet franchised,
for how long,
for what useful purpose?
We are not privileged,
though some are white,
the unmentionables.
We are still citizens,
below the bread line,
below your sight-line.
We did not vote,
no fixed abode
is no contestable seat.
We are still with you
ignored and "ignorant"
ignored and ignorable.
We are.
Footnote: I thought I'd made up a nonce word, but I found it in the OED. First used in 1615 and maybe not since until today.
Please consider supporting/buying/pre-ordering this