We Look Back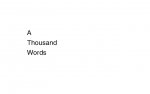 Fri, 05 Feb 2016
We look back at a rose-coloured past,
forget the daily drudgery and drink
in the sweetly happy elixir of our youth.
We look back at a slim and smiling face
before our dissolution, and say
"no regrets" to the blurred facsimile in our mirror.
We look back at a strange-routed past,
ignore the simple signs on our way
to the lambent sun-blissed exile of our now.
We look back at our rare and random choice
at every binary fork and wish
"noli me tangere" had been the watchword in our journal.
We look back at a long- admired self,
believe the written words in our script
on the yellowed, mildewed paper in a drawer.
We look back at our sweet and sour love
for all the golden girls we kissed
"I love you" while they whispered no-one's name.