The Year of the Golden Pig 3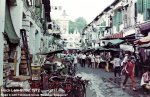 Wed, 03 Oct 2007
In the outer office, Jenny, our WRAC clerk, sat at her desk; sifting through paper, sorting it into piles; urgent and file thirteen. I got the urgent pile, the Captain got file thirteen. God alone knew what he did with it. Jenny looked up, gave a brief smile. Still a Lance Jack at 30: I wondered why.
'Anything I really need to look at?' I hoped she'd take the hint.
'Not likely.' She sneaked a look at the office door. 'And I'll keep him away from anything likely to get him into trouble.' I laughed.
'Did you put a call through to him from the Civil Police, Jen?' I asked.
'Ha! As if! He was here before me this morning though. What a shock I got! He nearly shit himself, though.' She looked pleased at that.
We were alone in the outer office, she didn't sir me up, and I didn't expect her to.
'Just one thing, why would Civvy Plod come direct to us?' She went on. 'What about Singapore Armed Forces MP liaison? They' d have a fit if we contacted the Civvy Police direct, eh?'
She had a point.
'Call Jimmy Chang, see if he's in the building.' Jimmy was my oppo in the MP's Liaison Office; I reckoned he'd be up for a chat at a noodle stand by ten thirty. I needed some fresh air; and a chance to talk alone. Once I'd seen him I was going to get out of uniform: I wasn't going to head off to Police HQ in uniform, if I did get the chance to go in voluntarily.
I met Jimmy at the stand by the railings of the perimeter wall. I saluted. He laughed and airily waved a hand in the vicinity of his hat. Naturally, my opposite number in the host country's armed forces outranked me. It made liaison more to their liking if a dollop of paying of compliments preceded any real business. Jimmy was Eurasian: a barrier to advancement in any government institution in Sinocentric Singapore. He didn't look it; he was just a little taller than his colleagues: but that was enough to send Lieutenant Chang Wah Lo to the backwater that was the ANZUK RMP Liaison office. I handed him a steaming paper-cone of chicken and noodles:
' I hate this foreign food.' Jimmy laughed.
' I only eat it to be polite myself, Jimmy.'
' What's so important we can't talk about it in the office, Marsh?' He peered at me through the steam, trying to read my answer in my face.
' Don't know, did you get a call from the Civvy Police about me? Only... the Captain took a call from them this morning: they obviously don't know much about him or they wouldn't have asked him so much as the time.'
Jimmy smiled, letting a noodle escape onto his chin.
' To answer your question. Not exactly. The Chief got a telex from them, they want us to courier your file round. He asked me for it. I told him we don't have one.'
It was my turn to laugh.
'Yes, well,' he went on. 'Not one we'll give to foreigners, police or not.'
Jimmy lobbed his half-eaten snack into the bin thoughtfully provided by a state prepared to fine you 500 Singapore Dollars for littering. I dropped mine in after it.
' Be careful, Marsh.' He looked both ways over his shoulder like a grass in a gangster movie. 'Don't give them a reason to be interested in you.'
He turned about and marched through the gate, and, as we were in public, I saluted his ramrod back.