The Year of the Golden Pig 8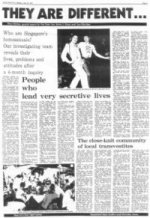 Sun, 07 Oct 2007
- 'So, whodunit?' She smiled.
- 'I really don't know.'
- 'Get a good look at the picture?'
- 'Not really. There was a lot of blood on the floor. He looked as
though he'd been moved.'
- 'How d'you know?'
- 'Just something wrong. Can't put my finger on it.'
- 'Maybe Lee did though.'
She blew fierce jets of smoke from her nostrils.
- 'Exit wound?'
My jaw dropped.
- 'What? I read books, don't I?'
- 'Nothing visible.' I said.
- 'Weapon?'
- No, nothing.'
Jen snorted. 'You don't have a clue, do you?'
- 'Ok Jen, you tell me: whodunit?'
- 'You'll know when he takes the mask off at the end.'
- 'Eh?'
- 'Scooby Doo??' She sighed. 'Do you actually know any children, Marsh?'
I didn't answer.
- 'What now?'
- 'I'm going to Bugis Street. Ask around. Retrace his steps. No point asking here. Nothing important'll have happened in front of the tourists.'
- 'You reckon?'
- 'I do. Look, can you get a cab back to Tanglin, I'll pay.'
- 'Fuck right off! I'm in.'
- 'Jen. These places are… you know.'
- 'You boys. I could show you a thing or two.'
- 'Don't. Don't forget what I do.'
- 'Don't worry. I'm signing off. Local discharge.' Her eyes sparked, imagining her future.
- 'Here?? Lots of things are illegal here, Jen. You know that.'
- 'Sometimes it's easier to evade the law than prejudice.' She said.
No one gave her a second look in Bugis Street. She didn't rubberneck, like I had my first time. I was looking for Kate, Shireen, anyone from last night. It seemed a long time ago.
We sat at a table. I waited for Li to appear. He brought me a malt and a coke for Jen. I raised an eyebrow; she shrugged and lifted her chin. I asked Li if he'd seen Cho tonight.
- 'Got customer. I tell her later.'
- 'Thanks.' I gave him a ten. 'Keep it.' His face tightened. He gave a stiff bow.
Twenty minutes later Cho - or 'Kate' - came out. Longtime. She was immaculate. The make-up mask looked brittle but perfect. Jen rolled her eyes. I waved Cho over.
- 'Hey Kate, drink?'
- 'What you want, Lawman?'
- 'Talk. I pay shorttime, you want.' The greed fought with distrust behind her eyes; the face stayed neutral.
- 'OK. You pay me. Not Li. Under table.' I slipped her two tens. She took them nervously.
- 'What?'
- 'The drunk man. Did you see him again?'
- 'No.'
- 'He's dead Kate.' Jen said.
- 'Good.' She spat on the pavement.
- 'Police been here?'
- 'What you think?'
- 'Did you tell them about me?'
She sneered.
- 'What you think Lawman? Police come ask nice, buy drink like you, ah?'
- 'What about the others?'
- 'Shireen no work tonight. She have hard questions, at station.
I give her you money.'
- 'You tell them anything else?'
- 'I tell them he leave after you.'
- 'If you remember anything else… Well, I'll come back. Tomorrow, maybe.'
- 'I be here, where else we go?'
We took off for Tokyo Rose's. I buttonholed the doorman:
- 'Hirohito in?' The Yanks' idea of a joke. The owner wasn't Japanese, but the name had stuck. It served him right.
- 'In back.' The bouncer waved at the door with his cigarette tip. He nodded at Jen.
- 'You a regular here?' I looked at her steadily.
- 'Something like that.'