The Year of the Golden Pig X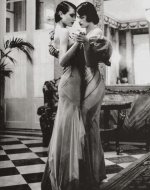 Thu, 11 Oct 2007
Jen knocked hard. The judas hole opened, shut and then the door swung wide. It looked better than Rose's next door. Cleaner, brighter. It might have been the drawing room in a country house, but for the bar. There were no men, apart from me. There were plenty of suits, mostly evening suits. Lots of ties. A few dresses; there was dancing, no groping: just cheek-to-cheek stuff. It was like a dancing class at a finishing school, except for the alcohol. The mix was 50-50, Asian and European; all of them acknowledged Jen, as she headed for a door behind the bar. I followed, keeping my mouth closed. It was a night for learning things. Jen knocked, went in: pulled me after her when I hesitated.
A Eurasian clinch broke up on a chaise. Out of politeness, not embarrassment. 30's Hollywood glamour sat next to a real life Suzie Wong. 'Hollywood' said:
- 'Jen. Who's your friend?'
- 'He's OK... You are, aren't you?'
- 'Sure. I'm Marshal, call me Marsh.'
- 'Delighted. I'm Tally, this is …well, her name means Golden Treasure.' Tally sent her out with some convincing Cantonese.
She stood up, Jen embraced Tally. I looked at the walls. Pictures of Western actresses and pop singers. One man, a boy really, vaguely familiar.
- 'Tally's my brother, Marsh. Or at least he used to be. He's a sister now.' I gave a nervous laugh at the Kai-Tais' term for their own.
- 'That's why I'm staying here; there's nothing for us in Hong Kong.'
I looked at the boy-man on the wall - handsome certainly -would have looked good fronting one of those glam-rock bands: Tally had another line of business.
- 'Get the boy's photo out, Marsh. We need to see it.'
- 'Ah, come on! The Bugis Street girls have seen it before,don't you think they would have said?'
- 'They call you Lawman, don't they? They wouldn't tell you the time in front of Raffles Hotel clock. You are so naïve.'
Jen took a good look at it, before handing it over to Tally. She hadn't recognised it; or I thought not. But who knew? She'd proved how good she was at hiding things. Tally said:
- 'Sure, I've seen this person.' She turned the photo' over. Her lip curled in a sneer. She adopted a simpering tone
- '"Thank you, after Little Bangkok, new life, new love, Jane." Where did you get this?'
- 'A man claiming to be Jane's father gave me the picture.'
- 'Sugar daddy, maybe.' A look passed between Jen and Tally.
- 'Sometimes they're both.' Jen whispered.
- 'What's your interest?'
Tally was all business, her club was probably as successful as it looked.
- 'Sugar Daddy's dead.'
- 'How?'
- 'I… I don't know. The Singapore Police interviewed me. I saw a photo.'
Jen rolled her eyes. Tally smirked.
- 'Did you check the newspapers?'
- 'No, but… they're the Police, why would they..?
- 'I'm not saying he's not dead. But this is Singapore not Surrey. Do they really let him out on his own, Jen?'
- 'Now hang on: I've got my knees brown, been here four years…'
- 'And learned next to nothing, I bet.'
I swallowed it. She was spiky, but knew more about what was going on than I did.
- 'Bangkok… Could have been working on Bugis Street then, Kai-Tai?'
I was thinking aloud. Tally snorted: slinked over to the desk, picked up a pen and copperplated a few lines on some expensive vellum. She handed it to me.
'kathoey; กะเทย Thai word, transsexual pre or post op. Generally pejorative outside Thailand. Doctor Nong Tum, Fan Dong Clinic, 'Phone: Jurong 461'
- 'There. Information and education. We prefer "sister"'
- 'No offence. It's just a word we use…'
- 'I know all the words, Lawman. Ladyboy, Muffadet, even 302'
302 was the article of the Singapore Penal Code that covered sexual crimes; it did not concern rape.
- 'Who's the Doctor?'
- 'You think everyone can afford to go to Thailand? The clinic is Little Bangkok; you figure out what kind of surgery goes on there. Don't make waves, Lawman. See if you can get them to talk to you at the clinic. Don't hold your breath.'
She finally threw down her expensive Mont Blanc; the Chinese lacquer cracked on a heavy-looking table lighter. Then she turned her back; to look at a picture of another boy she once knew.
- 'Have a drink at the bar, Marsh. I'll be out in a minute.'
Jen said.