The Year of the Golden Pig XI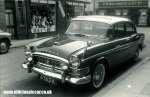 Thu, 11 Oct 2007
I stood at the bar, surprised when a good malt appeared. I felt I was reading a script that everyone else knew by heart; like I was the only one who didn't know the next line or the ending. Shouldn't have drunk it. Did: waved the empty for another. The warrant card wouldn't save me if the Civvy Police pulled me over. Jen came out.
- 'Remember. Keep it shut. I'll be out in a couple of months. Then I won't be your problem.'
- 'Who else knows?'
- 'That's an SIB question, Marsh. I won't tell you. There are plenty of us you know. Men and women. We're just careful. We have to be.'
- 'I don't care, Jen. I think I've had enough of it myself.'
She laughed bitterly.
- 'You've had enough! The Boy Wonder? I'm sick of pretending. We should get a mask issued with the uniform.'
- 'Everyone hides something, Jen. Uniforms mean uniformity. Most of us join to hide, even if we're not running away.'
And I realized I had had enough. Once, I'd have had Jenny Diver on her way to Colchester and a dishonourable discharge. Berlin had changed that. The black-and-white certainties that had made me the youngest Warrant Officer in the army were as worthless as the paper money the Chinese burned at funerals.
- 'What's my next move then, Jen?'
She looked me up and down.
- 'You can't pose as a customer. They just won't believe you.'
- 'Why not? Don't they get Europeans?'
- 'They do Marsh. But not second-row forwards. Most people, you know… they're sort of half-way there. Tally was.'
- 'You can't say that…'
I repeated a story about the FBI's Hoover that a USMP had told me in Berlin, at Templehof, over a beer.
- 'If only that were true.' She laughed. 'It won't wash here, Marsh. It's different. You could try Baudelaire's technique.'
- 'That probably didn't work for him.'
- 'You've got me, though.'
I offered her a lift home. She refused.
- 'I've someone else to see here, first. We'll cook the log tomorrow. Go out to Jurong. Mainwaring won't care. Goodnight, Marsh.'
I left, hoping I'd find my way back to the Snipe alright. Then I laughed, picturing myself asking in Singlish where the Hindi Cinema was.
It wasn't so hard to find after all. With the blue lights flashing beside it; the ambulance and Police Toyota Crown with the engine running. I could see someone in the passenger seat of my car. Senior Station Inspector Lee was leaning against the driver door. He took a last draw on his cigarette and ground the butt into the offside wing.
I didn't get annoyed; the blood on the windows and seats looked far worse.
- 'Mr Law, how good of you to come, at last. We've been waiting a while, some longer than others.'
He pointed through the window at poor old Harry Wilson, who hadn't been in Tokyo Rose's tonight, because he'd had an appointment with a bullet.