The Year of the Golden Pig XVII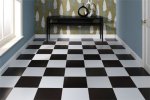 Wed, 24 Oct 2007
The red Chevy cruised to a halt in front of an institutional looking building with the unfussy lines of a small factory or school. Jurong Clinic was engraved on a discreet brass plaque beside the front door. A bell was underneath it. Jenny pressed it, hard. The door opened quickly, as if the person answering had been waiting behind it. Male, Singapore Chinese, I thought - judging by the western tie and suit.
'Follow me, please.' He said. No accent at all that I could hear.
He took us to a large-ish reception room. The walls lined with a surprisingly comfortable range of chairs. Not a job lot of canteen chairs, but twenty or so accumulated by unknown means and in different decades by the look of them. The floor looked like a giant chessboard: the ceramic tiles gleamed and looked naggingly familiar.
The suit looked me up and down and said:
'It's not a consultation is it?'
'No, Police. My name is Law.'
I flashed my warrant card as fast as I could, knowing it looked nothing like the Singapore Police Issue: praying that the guy wouldn't know that.
'A problem, Inspector?' I was sure now - Chinese: typically they would butter you up by inflating your rank or somehow deferring to a higher status that both of you knew you didn't have. Mostly, it was to distract you: it was a pickpocket's ruse, a feint in any negotiation.
'Just some questions.' Jenny said.
I raised an eyebrow at her. The suit looked at her with contempt, if she had been police, her undercover disguise would have worked a treat.
'Miss Hari is consulting on this matter.' I couldn't resist a smirk. She would have kicked my shin in other circumstances.
'What questions?'
'Well, what's your name for a start?' I asked.
'I am Dr Nong Tum. I own this clinic.' He gestured, as if I wasn't sure which clinic he meant.
'That's a Thai name, Doctor.'
'Someone who spends so much time among the sisters should know that appearances can be deceptive, Inspector Law.'
He smiled as if he'd played a particularly clever tile in a game of Mah Jong.
'Where are your staff? Surely you're not here alone?' Jenny couldn't contain herself. I let her get on with it.
'The clinic is temporarily closed, I regret to say. But that does not concern you, does it, Inspector?'
He had yet to acknowledge Jenny in any way since that first look of contempt.
'No, it doesn't, Doctor. I need to know about a patient of yours.'
'I have so many, Inspector. So very many unhappy souls.'
He was creeping me out. He had the tight mask of too many face-lifts; maybe he'd used mirrors and done them himself.
'Do you have a name?' He seemed genuinely interested.
'No, we have a picture.' Jenny said.
She took it out of her clutch bag, held it extended. Nong didn't move. I took the photo and handed it to him. A tic developed in Jenny's left cheek.
'Do you recognise him, Doctor?'
'She'll look different now. But yes, I do.'
'Who is it?'
'I'll have to consult my files, Inspector.'
As he strolled over to the 5-drawer filing cabinet, I asked him:
'Anyone else been asking?'
'No,' he said. But he already had a file in his hand.