The Year of the Golden Pig XXII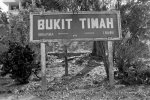 Mon, 17 Aug 2009
The taste in my mouth took my mind off the pain in my skull. The bone itself was aching, anything inside it felt like mush. I tried to sit up, which at least told me I was lying down. Both eyes were glued shut with some crusty substance, I hoped it was dried blood. There was grass or something growing underneath my body. It wasn't likely I was still outside the Tokyo Rose. Besides, I hadn't heard a voice or a vehicle since regaining consciousness. Sitting up still feeling too much of a chore, I rolled onto my side and kept rolling. Downward, and fast. The stench and the wet feeling told me I was in some kind of ditch. Risking all kinds of infection, I scooped some water with my hands and eventually de-crusted my eyelids. I hoped I'd get to some clean water soon.
The ditch ran beside a dirt track. It didn't look like it led anywhere. In either direction. I turned right. They say people usually turn in the direction of their dominant hand, when offered a random choice. I don't. People have often called me contrary, I usually agree with them. Walking an abandoned dirt track was pretty boring: I felt my head with both hands. An ostrich had laid an egg in my scalp, there was plenty of dried blood, enough to have flowed over my eyelids. Had I been left for dead? Or was it a friendly warning from Uncle Sam? They couldn't have left me too far out in the bondu: the jungle was cut back and, after about two miles, I passed a Malay kampong. It was deserted, roof fallen in and two cars rusting in front of the stilts. Perhaps they were missing me at the office. I looked at my watch. The figures read 10:06. It was light, it had been a long time to be unconscious.
The track met a road eventually. It was the Bukit Panjang Road, I was about a hundred yards from Wing Wah's Tailor and my illegal flat above the old gouger's shop. Either I didn't look quite as bad as I felt, or Wing Wah was living up to the inscrutable stereotype for the fun of it. He just grunted and held out a hand palm upward.
'What?' I snapped.
'Key.' He said. 'You go, Mistah Law.'
'What about my stuff?' I asked.
For answer, he laughed and said,
'You no want now, Mistah Law. Smell very bad.'
His laugh followed me up the stairs.
He was right, I didn't want anything from the room. There must have been more than one of them searching. There was more than one calling card atop the pile of urine-drenched clothes in the middle of the room. I wondered what kind of animals they were to do such a thing, and if they had stripped naked to do it, to avoid soiling their own clothes, whilst soiling mine.
Downstairs, I overpaid for using Wing Wah's phone for the last time. Luckily Jenny Diver was in the office.
'Come and get me, Wing Wah's, now.'
I stood outside, scowling at the fastidious Chinese giving me a wide berth on the wooden walkway in front of the tailor's.