Dark Hart
Image: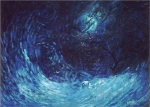 Wed, 04 Dec 2019
'So you did come,' Fenton Jake called across the echoed merriment of the Dark Hart Arms. They quieted for a second, but on the eve of their noise returning, Fenton Jake had his reply.
'You can't leave your heart in the ownership of a Reaper,' Urbane Thomas replied, composed as ever he was. He still wore the Reaper's highwayman attire, an obsidian wide-brim hat, trench coat, and boots that all reflected the low amber light of the Dark Hart Arms. Below the coal-black waistcoat underneath, though, everyone could see the hole in his chest, still bleeding onto his pleated white shirt.
'And a Reaper you still are,' Jake stood jolting, scraping his chair over glass shards he smashed in the same movement.
'A Reaper dies like any man. I didn't,' Thomas stepped forward. There were shrieks from some, and calls for calm from others, but none dare approach. For Urbane Thomas, dragging a rotting foot as he walked, bore a loaded pistol proud as one might in a gin palace on the outskirts of Black Walks. It was trimmed gold where it was not a midnight blue, and all knew then that he was Urbane Thomas, the Revenant Prince.
Fenton Jake drew a kukri, ruby-encrusted at the hilt, and pressed it to the neck of a near maiden, fair and auburn. 'Shoot me and she dies.'
'You harm everyone else just to give yourself a few more moments of life. I don't understand it Jake. When was it so easy for you to kill the innocent? When did the Reapers of Black Walks forget who the enemy was?' Thomas kept dragging his lifeless leg as he approached. The hole in his heart was a window into the deep darkness of his coat, which hung as if sad, but eternal as the maw of a void.
Fenton Jake was sweating far more than he realised. It reflected more than a mirror above his ginger brows, oozing further as his neck twitched and his hollow cyan eyes glittered and flickered. 'Just stay back. Just stay back. I… Why… Where did you go?'
'Give it to me, Jake. Give me my heart.' The words of the Revenant Prince consumed the room of its vitality, so that in its place the burden upon Thomas became shared. Some shed tears for him; they came as if inevitable, and yet none in the Dark Hart thought to know him, save in legend, or in reputation. 'I won't hurt you if you give me my heart.'
Fenton Jake's neck was just as sodden, and his Reaping attire was seeming to droop from his body like it was weighted at the sleeves. 'I…' and instinct feel upon the Reaper; his kukri sunk into the woman's neck, blood spraying to stain his jacket and his face and his hair, and the floor beside the bar, and into drinks, landing upon the Black Hart of tiles in the floor, so that it seemed to weep, just as the maiden's neck did. And for a moment, death had won; but Urbane was the dead's champion. The auric shine of his pistol was dusted in grey powder before a bullet sailed, and Fenton Jake fell aside. It was a bronze bullet, and it split on to the woman's face, covering it in a metallic carapace.
'You see what you do, Fenton Jake? The heart. Give me my heart,' Urbane demanded.
Fenton Jake had shrivelled himself, curling into a ball, smaller than a babe, and quivering as the earth might tremble. 'Don't play the fool, Jake.'
'I don't have your heart. I sold it!' He bellowed. The Dark Hart Arms was alight with gasping, but Urbane did not hear. He outstretched his third arm, concealed in the darkness of that cloak, so that it might raise Fenton Jake from the ground.
Jake did not dare touch it. He had seen the vile being express itself as that only once before, and to look upon it alone was enough to cripple the fragility of mind. Yet it was the only warmth in the Dark Hart. And it was something loving.
'What are you, Thomas? What the fuck are you?'
Urbane replied in that soft tongue he
carried, 'I was a Reaper once, Fenton Jake. As were you. Once we were feared, yet now… now we are–'
Jake squirmed, as if stung in his spine, or jolted at by a spark.
'Jake?' Urbane shouted, horrified. One tendril of silver hair had splashed through the blood, and pierced the ginger Reaper through his back, as if it was able to announce death upon the terrified. Urbane traced it quickly, to the shadow of a man in the crowd, fleeing toward a far door.
'Jake, speak to me,' Urbane shouted down at
his old friend. 'Jake!'
There was not time; Urbane's throat burned, he could feel his heart leaving the gin palace. It was that silhouette; it was a phantom of malice.
'Someone–' Urbane Thomas collapsed to his knees. He spewed blood that ran dry the moment it kissed air, and he wrenched at the floor. Yet the people of the Dark Hart stood in wide-eyed watching. 'Some…' Urbane fell to the floor, his face against the tiles of the Dark Hart, in the blood of the throat of the maiden recovering in bronze.
Not fifteen minutes past, wherein the barkeep had done little more than lay a temporary fencing around the three bodies, between booth and bar, Urbane grew a spectral arm, that emerged from his back. It was seven-fingered, and omnipositional, twisting and convulsing as if in spasm. The arm fell limp for a moment, as a few turned to watch. It was as much a prism as a mirror, and the burnt orange and light onyx of the interior of the Dark Hart were colours glanced off and transformed, before Urbane Thomas was lifted from the ground, still choking.
'Help Fenton Jake, I plead you all. My Mother was queen of Black Walks once, and to her you are indebted. Help this man, and help that woman, they must take the fungal phlegm.'
An aged barkeep, ragged in his clothing as much as his bearded double-chin, was the only to respond, 'I ain't with any fungal phlegm. The mushrooms aren't growing here for years, Urbane. But… I'll do what I can. A bed for both and a meal at wake.'
Urban Thomas hobbled to the bar. 'I would also like to procure a drink, palace-king.'
And a drink was had, for the Revenant Prince knew the value of debauchery to his subjects, even if they neglected his existence. And a second drink after.
Urbane Thomas stumbled from the bar after the second. 'Know, all, that this man was once a reflection. Fenton Jake is as much the Revenant Prince as I; as you all. We were Reapers so that our livelihoods might stay amongst and within the many streets of Black Walks, together, and with many others. Yet it is the taint in one's own heart – whether in brotherhood's fealty or in xenophobic terror – that will let death come back. I am death's champion as much as her enemy – for I deny her amongst you so that instead she is wrought against others. Do not feel proud to know this. Just know that for all the purpose you may think to have, it is never worth stealing the heart from someone yearning it,' Urbane finished, and lunged through the near door, still dragging his rotting foot.
The people of the Dark Hart each raised an eyebrow, as if in the rehearsed chorus of passing interest. 'What do we do then, with those two?' The barkeep's apprentice asked, once chatter had rebegun.
'I don't know. One of them's a head encased in bronze from a gunshot by a half-ghost, and the other died by… hair? Put them in the cellar. If Urbane returns, we'll tell him they passed.'
'Lie?'
'We tried to help them, but I was all out of fungal phlegm. Not my fault, not my problem,' the barkeep finished, as he turned back to the barrels to pour himself some gin.