Can You Direct Me To Memory Lane?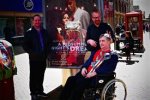 Fri, 19 Jul 2019
Can You Direct Me To Memory Lane?
On shifting sands
An old man stands.
Faded glitter of wealth
Supplanted with fears for health.
As each breath is counted
As the clock ticks down,
Are met with thankful smiles
Not worrying frowns.
As he searches for Memory Lane
His memories are cast
Of old friends long past
Yesterday's gone in a flash
His mind is a muddle,
Recall is hard and uncertain.
'Just where is Memory Lane?'
Happy to know not
When comes life's full stop,
He promises each dawn
'Make it the best,
You'll be a long time at rest!'
After he's gone real friends
Will go wandering down Memory Lane.