A Journey To The Buffers Ch 1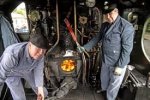 Thu, 16 May 2019
1 likes
A Railway Journey
Chapter One
Stratford: First Time Round.
I have a lingering memory of being three and hoisted up onto the footplate of some steam engine or other at St Pancras station.  The year I do believe was 1958 and I had reached the tender age of3 ½ years old.  We had obviously just returned (or maybe we were going to) from a family visit on mother's side in Nottingham.  All I remember was the open firebox door and reeling back in fear at this vision of Dante's Inferno.  Someone held me up and I was allowed to blow the whistle, which on this particular engine was the same handle and chain that flushed our toilet at home.  I was hooked and every journey around the home was some epic train journey with yours truly on the regulator.
Time passed and I was endowed with the usual train sets (none of which I treated with respect) and broke them all.  At least I used them and didn't stuff them away for fear of spoiling them.  We lived in Chelmsford from 1960 and my sister for a treat would take me along a path called 'The Bunny walk'.  The point at which the path rose to be level with the nearby railway track, was a great place to wave at the drivers.  Funny though, the electric units and DMUs (diesel multiple units, a local train really) never waved back, only the soon to depart Britannia steam engines.  I always thought the unit drivers as miserable sods.  Later, I got the chance to drive both and found out why.  I never did grasp the regulator of a live steam loco, but as I found out from those who made the mournful transition from steam to diesel/electric, it had so much more appeal.  I didn't know it at the time but Chelmsford was a sub-depot of Stratford, East London, where I was to later work.  I could see a couple of engines (Class 15 British Thompson Houston for the anoraks) up against the buffers.  I think the freight yard was all but finished even back then, but I loved anything train-wise and had to be prised away from just standing and staring at the engines.  They represented movement and travel.  I will always be the sort of person that is much happier on the move and trains meant just that to me.  Even to this day, I am only happy on trains when the scenery is constantly changing and I find myself re-reading the same sentence from my newspaper or book because I am spellbound by what is going on around me.  In fact my mother always called me 'Bridget the Fidget', a phrase that used onset and rhyme to sum up some people's inability to remain still.  Still, it did sum up my restless nature.  If I have one real regret about my railway career, it is the long periods of inactivity and some of the more static posts I held.
I have little time for the modern driver and the so-called skills they need.  I know readers will slate me for this, but I stand by what I say. Even in the time of the early diesels, there was a consummate skill in handling a locomotive and of course the troublesome trucks (thank you Rev Awdry) that followed reluctantly behind.  Loose-coupled and partially fitted are trains (loose coupled meaning that only the engine has brakes and partially fitted means only some of the vehicles have brakes) that have been consigned to history and the way in which train drivers managed the running of the train (we called it Handling) were much more aligned to the manner in which Steam Train Drivers drove their trains than the modern, all mod cons electric train.  It is virtually impossible to make a mistake these days and the levels of safety (rightly so) are higher than ever before.  I have no idea what the apprenticeship is for a driver now, but I have a fair idea that it is a good deal shorter than when I began in 1971, aged sixteen and with no prospect of becoming a driver until I was 23 (it was lowered to 21 sometime in the late 70s) and with good reason as the Railway System was in danger of running out of qualified Train Drivers.  There was then, much to learn and a good deal of it had to be practical experience often hard-earned.
So to Stratford! Not the dreamy home of the immortal bard, but the land of the Chirpy Cockney sparrow and the sprawling mess of the East London railway complex that was Stratford Depot. The place seemed to go on forever and if that was not enough, it gave way to the endless miles of track that made up the neighbouring Temple Mills Marshalling yard (Freight Trains would come in and the various wagons/vehicles re-formed according to the vehicle's final destination). Now there's a term! Probably also consigned to railway history, or if not, on the endangered list and at risk of extinction.
Let's get back to the eager young sixteen year old who journeyed to Stratford Diesel Depot with a dream.  I was going to be a train driver and no one was going to deter me.  So, when I arrived at the admin building in the centre of the depot, it was with excitement and expectation.  I had to re-sit the written test.  I didn't know about learning difficulties in those days and despite appearing quite bright verbally, I had great problems actually interpreting the written word into actual understanding.  Much later, I learnt about something called 'learning styles' and it made the struggle I had to pass the test back then, understandable. I learn and communicate using verbal and visual techniques.  A sort of watch and copy way of doing things.  The many manuals and rule books around at the time made much more sense to me if I had a mental image to help me understand.  I later found out that some grades of employee got what was known as 'A reading of the rules' where the person in charge would literally read to the people who needed to learn and use certain things.  Still, I passed the test that day and was given a starting date.  Naively I thought I could have my school holidays first and said I would be back in September.
So, the schools returned, I made my way to that grimy, smoke-blackened building for my first day.  The clerk who greeted me had forgotten his promise to take me on, and over thirty others had joined in the interim.  "We don't have any vacancies…still, this letter says you have a job, so I guess I will have to take you on!"  It was Monday the 6th of September 1971 and so began the journey that would end in York National Rail Museum some years later.  The Head of Admin, whose name escapes me, would have looked more at home as a mortician, starched collar and all.  I almost expected him to say 'You rang m 'lord' and lead me off, never to be seen again.
Instead I was taken to see the Yard Forman, Lenny, who in turn took me to see Johnny Bondfield, the store man in charge of uniform.  I say uniform, but that was a euphemism of the highest order.  I got a set of blue serge overalls and a steam cap that would have suited me more as an extra for the Krankies. The dungarees had a bib that touched my chin and leggings with more folds that a bloodhound who had stopped in a hurry. Remember the days of the oversized school uniform?  You know! 'You'll grow into it!'  Well I had room for several of me in it.  In fact the leggings were a tripping hazard just waiting to happen.  No wonder people took the piss out of me.  I was after all fair game for the inevitable harsh leg-pulling humour that was so common in those days.
  The store man was a classic of his mould. A shock of blond hair and underneath skin so wrinkled and dry it was beyond repair.  He reminded me of a sort of Billy Fury after a long night down the pit.  Scrubbed up, but bearing all the hallmarks of a man who's been in his skin too long. He was a direct descendant of the old fashioned railwayman.  God knows why we even tried to join the footplate.  When his kind spoke it was clear they were the only ones who could fire/drive a steam engine.  Johnny revelled in telling the likes of me how they were the only ones who knew how it was done and while they were at it, just how good they were.  To be fair, he had once fired the great Britannia Steam Locos to Norwich, but as a diabetic had been taken from that former glory to dolling out battered clothing to oikes like me.  No wonder he kept a face like a well-kept grave.  Aficionados of Mike Harding will remember his definition of a store man: 'all they had to do was hate everybody and give 'em bugger all'.  Well that summed him up to a tee.
Nobody bothered with introductory tours in those days.  It was up to me to find Lenny's office. I found an old prefab hut with a door at one end.  My nervous knock was greeted with 'Darn't stand knockin' fackin come in!' So I did. The shabby den was the sort of air raid shelter that had seen better days.  The hut was gloomy and consisted of an old  worn wooden bench, the obligatory kettle, and a calendar exhibiting a young lady with the usual 'enlarged assets'…Pirelli I think it was and what a half-naked woman had to do with selling tyres I don't know.  Unless it was a subliminal notice to 'tread' carefully with her!  The Baby Belling hotplate was scorched brown and black from years of rugged masculine indifference.
I was the only one in line of promotion.  The depot was full of 'adult cleaners' which makes them sound like extras from some porn venture.  Most of the guys were of West Indian descent and a cheery bunch given the filthy tasks they undertook daily.  At least I was going to rise through the ranks so to speak. One day I would be sitting on the footplate of the engines I so loathed scrubbing and wiping.  These guys were trapped of the bottom rung of a ladder they would never climb.  The maximum age for entry to the footplate in those days was twenty six and most of the staff were in their forties and above.  Most of the diesel bogies had to be cleaned by hand.  It was a dirty and as it turned out a dangerous job.   The wheels, bogies etc had to be sprayed with a foul and skin irritating substance known only to me as 'Emulsol' God knows what it did to the skin, but I saw what it did to the engines.  Having been coated the bogies were then jet-sprayed clean and the vile bilge simply ran down the drains.  Years later the site became the Olympic Park for the 2012 London Games.  They must had shovelled millions of tons of cloyed black tar-like soil to create the spectacle we see today.  Even now I shudder when I think of the 'health & safety' of the working practices.
So here I was cleaning the engines before climbing the promotional ladder and firing them.  Steam had disappeared from the main line three years before, but the line of promotion was still carved in tablet of stone.  We were still called firemen by most. The modern title of Secondman had been created.  Most trains still had a double crew on and it was years before ASLEF (Association of Steam Locomotive Engineers & Firemen) would allow 'single manning, or drivers without a second crew member at the front. So we were still in demand as a result of what was an archaic promotion system.  The days of steam gave one chance to become familiar with every aspect of a steam locomotive, but the modern diesel counterpart either worked or it didn't.  The art of nursing an engine and getting to know it was dead, but the means of manning the modern fleet had not changed. 
Much later in the book I will begin to relate my experiences as a Train Crew Inspector; the very top of the ladder.  I didn't realise it at the time, but I was just about the last of a breed.  When I left in 1994 things had already changed so radically all that was recognisable about the line of promotion was the same locomotives I had cleaned so many years before and it was to change again after my departure.  I stood like and aging caretaker waiting for the old guard to die off or retire into history.  My job was almost to lock up after the last one left and shuffle off into history.  However, in 1971 the training remained the same and training schools could not begin with less than three people. I had to wait for others to join me before I could pass through that particular rite of passage so to speak. So, until I could enter 'traction trainees' school, I had to be content with the now obsolete role of engine cleaner. That was a joke because for the first week I only got near an engine if it was about to run me over.  No, I was given a hessian sack, a stick with a nail on the end and instructions to pick up litter around the depot.   Looking back, I was lucky not to be stuck in an office, or at a supermarket checkout, or picking waste cotton from under some doggy loom. No, at least I was left to my own devices and could roam the depot for hours.  Stopping only to bow in reverence as a loco trundled by, almost as if I were a lowly foot servant bowing to the waist as the Lord of the Manor ghosted by on his regal course.
My 'mess room' or canteen such as it was, turned out to be the old fire station for the depot. It was situated near the entrance to the inlet, where locos came back to the depot.  A resting place, where weary engines lumbered home for a well-earned rest.  This brought me into contact with the formidable Bill Foxon.  He was a driver on 'light duties' and spent his day selecting lucky locos for a spruce-up at the washer plant nearby.  I say 'formidable' as a mark of respect.  Bill was taken prematurely from the magic of the main line and left to idle his days at the depot because of illness.  I later found out he had been suffering with cancer, but you never would have known it to look at him.
Bill epitomised the classic old-fashioned drive from the days of steam.  Young firemen would have been advised to wait for the command to speak and idle chatter was met with the chilliest of stares.  Yet it was Bill who began my journey on the footplate proper.  I had my very first ride in the cab of an engine (still an honour for the initiate and chosen few in those days) albeit via the washer plant.  It was Bill who introduced me to my first trade union.  He got me to fill out the forms and lo! I was a proud member of the then mighty ASLEF and wore my badge with pride as well and Bill who first bewitched me with the varied tales of life on the footplate. 
I don't know why, but there was a certain romance in being an Engine Cleaner 'in line of promotion' unlike the Adult Cleaners who had passed the dreaded age of twenty six, which was the cut off age for entry to the footplate in those days and would never be allowed to rise above their station (sorry, two puns per chapter) and sail out of the depot on their maiden voyage.  I finally got near a locomotive at the start of my second week and when I had been left to accomplish my task, I took my first steps into the cab of the loco I was cleaning.  I still remember the number.  It was D1527 and a type 47 Brush locomotive.  I did what all young boys would have done in my position, sit in the driver's seat and grasp the dormant controls. Again, I was transfixed and only a blast from foghorn Lenny woke me from my dreams. "Oh! Casey Jones. Get your f*****g arse out here and get on with the windows!"   Thinking I was about to be sacked, I ran out and in my haste, kicked a bucket of water into the engine pit, showering a fitters mate working below.  I looked up at Lenny, who in mock horror had placed his hand over his eyes.  Peering through his parted fingers, his face began to shake and Lenny roared with laughter and shaking his head, turned and walked away, still chuckling to himself.
After that, I became firm friends with most of the fitters and it was by a fitter that I received my first nickname.  The first of many I was to receive over the years.