Never Satisfied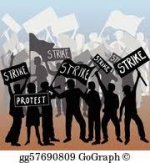 Sat, 27 Jul 2019
Never Satisfied
As a worker involved in honest toil and sore oppressed under the belligerent, greedy and bullying of the callous ruling classes, I am proud of the rough skin, the sweat on my brow (when opening my pay-packet) and my tea on the table as the conquering hero stomps in and demands the hunter-gatherer be fed NOW.
I am a vital cog in the machinery of industrial toil and honest toil at that. Me? I watch my machine put the crown tops on endless bottles of beer and lager.  See what I mean? I oil the wheels of commerce and I am proud to take my part and go home on a Friday night WELL-OILED!
I demand respect and believe in fighting for my rights.  Fighting those greedy fat cats in the boardroom has become a crusade of mine; I mean, they get paper in the Gents and their own parking space.  Their over-inflated egos are fed by their salaries and the bastards seem to believe they were born entitled to tramp over us working men and women.
That officious little Hitler from Accounts actually dared to interrupt my snooze once (as my machine knew what to do I was catching some well-earned sleep) just to point out I had the wrong date on my overtime claim and that I would need to resubmit…Little twat!
So I became a lot more active as a union man.  My reputation for downing those capitalist bastards at every opportunity was legendary.  The lot of the working man at my factory went ever upwards and I could see the management tremble slightly as we gathered round the table at the monthly meeting. Except that is for the snotty little cow who masqueraded as the Director's PA.  I don't remember dropping from a dog's bottom, but she looked at me all the time like I was something that she had stepped in…come on the revolution!
Then I got lucky, or should I say she got unlucky. I burst into her office one day full of venom as the canteen had run out of sugar again, only to find the Accounts Manager and herself in full flight as it were as they throbbed their way through what could only have been delicate negotiations as to who would come first… If you thinj that was leverage then how about the following week when she repeated the performance with the MD in his office one lunchtime…
Negotiations for a rise became so much easier and as I proudly assembled the 2,000 strong workforce in the yard I felt a sense of pride and an overwhelming victory over the ruling classes.  I raised my hand and cried
"Good news fellow workers! We have secured a 100% pay rise…"
As rapturous cheers shook the yard, and without waiting for the cheering to stop I bellowed through my megaphone
''And you only have to work Fridays!"
A defining silence fell and a lone voice from the back cried
"What! Every fucking Friday!?"
Some people are NEVER satisfied!