The Ninth Planet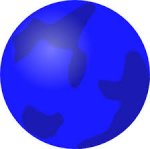 Sun, 05 May 2019
The Ninth Planet
Ever since Pluto suffered relegation from the top table astrophysicists have been looking for a replacement.  In many ways I'm glad Clyde Tombaugh never saw the day. Even though it was still amazing, it's like being told your diamonds are glass.
So now we are told that by the laws of physics that another planet has to exist, but what if it doesn't want to be found?  Maybe it is a utopian heaven where it's inhabitants got it right.  Can you imagine them realising that Earth had found them?  For me, I think they don't want to be discovered.  I mean, not everybody has screwed up our planet, but a lot are having a bloody good try!
Consider the moral haven of Planet 9…no greed, lust, hatred, jealousy, envy, hunger, want, selfishness, longing, covertness,  bombs, chemicals, suspicion, racism, homophobia, pride…I could probably go on forever, but on my Planet 9 these things never existed; let alone be conquered or abolished. 
I'm not suggesting it would remotely resemble Earth in physical form.  If it is ever seen, it will be so far away from the Sun as to be uninhabitable by our kind, but if myth could take form then it would be without blemish…a bit like many people's idea of Heaven.  All I am pondering is what it could be if not pure. So if you are confused about my suggestion about inhabitants let me clear that up.  If the good and the humble of this planet were of Planet 9, would the invite Earth to the party….
We have the chance to make Earth like my Planet 9, but will we take it?