Romance Lust or Love?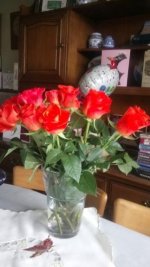 Tue, 11 Feb 2020
Romance Lust or Love?
Diamond teardrops on a red rose
Brush the damsel's delicate nose
 A crimson blushed cheek softly glows
An innocent soul believes what it knows
Soft-whispered entreatments
Bejewel her angel-like wings
As she soars close to heaven
To her aching the heat of love brings
Sails in full bloom billow and blows
Her maiden promise like petals unfolds
Floating away in a world of her own
Dreaming of a blinding white gown
What of that prince Paramore?
Bearing the essence of love's young dream
Stealth-like he covers her this makeshift knight
Hymen stolen this false-hearted lover makes for the door.