Walk Together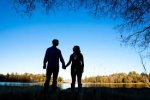 Fri, 29 Apr 2016
Walk Together
I observed a couple the other day with their infant.  They were sat in a supermarket Cafe trying to grab a bite to eat in between attending the constant demands of their toddler offspring.
What was noticeable was the interaction of the adults.  Each had a face that told a different story and it got me thinking of my rite of passage as a young parent.  Forgive me if I appear to generalize and label men in general, but if we are honest what I am about to expand on carries varying grains of truth in all of us no matter how big or small.
The mother that day was as most young mothers are busy and engrossed in the needs of the child.  The father (for I assume it was he) gave a different signal.  He didn't want to be bothered; yet he knew that for the sake of the task in hand he had a moral obligation to offer some degree of support.  Even if that support was confined to paying the bill and pushing the buggy, but he was in a different place alright.
I have spoken before about something that I call the biological imperative.  The need to breed put crudely.  Nothing wrong with that of course.  If the act of courtship to conception was not a pleasurable one, the way would be clear for a new race of beings to populate the planet.  No, it has to be fun or nobody would bother.  Sorry, some would; simply because it was the decent and right thing to do.
Over the years I have observed many a biological duality become dashed upon the rocks of frustration and outright anger when the storms of passion abate.  I remember being at a lecture that included observations on the course of boy/girl or man/woman relationships.  The speaker referred to a 'plateauing of passion' and by that he was referring to the normalization of sexual relationships.  Successful marriages sort this out, or at least I as an untrained observer assume they do.  In what form is not my business, but speaking for myself I would say that a routine is established and the sexual fire that burned is occasionally has the odd log of passion tossed on it to keep the embers glowing. What takes place (I think) and I draw upon my own experiences here is a sort of reallocation of the Pie Chart elements that form a complete circle so to speak.
However, going back to the couple in the Cafe.  The outward signals each parent gave off and conversation (confined mainly to the negative) was restricted to enduring the situation not enjoying it.  I happen to know of that couple as they live in the same community and I am sad to say that the embers have probably died and nothing was there to take its place.  That is the crucial element.  A reorganization of priorities and not a extinction of any of the elements.
Let's be honest fellas!  Love our partners as we might, it's our next 'leg over' that remains high on the list.  Higher sadly than our partner whose physical, emotional and sexual energies are seriously disrupted by the arrival of 'les enfant terrible' if you will forgive the parlance.  Coping with the change from a male perspective needs patience.  I didn't have enough of it, but loved my wife and family enough to realised I had to seek it. 
Parenthood is a deadly serious path.  Not a game to be played but a life choice that should demand serious debate.  Planning a family does not simply mean deciding on the month the female egg should be fertilized, but the passing through of a door that has no return.