Elephant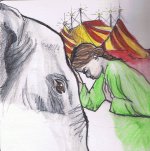 Tue, 17 Mar 2020
ARTWORK:  2 of 4 from the 'Play' series, sketch in progress for 'All The Pretty Ones Are' Exhibition at State Theatre Centre, Perth, 2011. #JessicaMcCallum © 2011
Elephant 
When I was a child
I remember thinking
that chain around
the elephant's leg
wasn't strong enough.
Elephants are tough!
If he wanted, he
could free himself just
by lifting that mighty foot
shaking the metal loose
and walking away…
Why does he stay?
No-one could stop him
If he chose to go, take
his own path. No more
performance on command
- he could find some green.
Walk through jungles again!
Elephants are tough so
why does he stay, stroll
through sawdust, put up
with that lady who leans
into his ear, whispering…
It's because he loves her.
Frances Macaulay Forde © 2011