Autumn Leaves.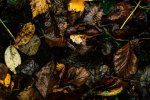 Thu, 10 Dec 2020
When I was younger, I didn't like Autumn, I didn't like the dark nights and not been able to see what was under my feet. It didn't make any difference if the ton of leaves were freshly fallen, and looking very pretty with their myriad of Autumn colours, I was still uncomfortable, with each step.
I like to be able to see what is on the ground, when I was younger there would be dog poo, and as I got older there was spit, and what if there was vomit, like what I saw this morning on my way home from work, it turned my stomach, and further on more vomit!
I remember when I went to Germany, when I was nineteen, I was very impressed with the driver in his little machine that sucked up all the pesky leaves, after it had been there wasn't one leaf that remained! That was my kind of kit, I'd have paid money to have that in my Town.
Every year has been the same, I hate the fallen leaves, but this year, as I walked through them, it made me think, and I thought although I don't like them, I am fortunate to be able to see them, what a gift of sight it is to see.
So, now I'm grateful for the, fallen, damp, ugly leaves, that have fallen and trampled many times under foot. For there are many who are not so lucky.