The Death Sentence!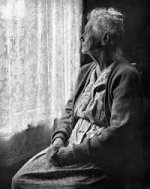 Wed, 18 Mar 2020
This week when I was at work, we heard on the news with the new daily updates, "The over seventies and those who are unwell and over sixties have to self-isolate at home."  As I was about to have two weeks off for annual leave, I said, "Goodbye," To the co-worker who is eighty, I could see the sadness and tears in her eyes. Sylvia who had worked there for over thirty five years, was our best worker! She is funny, strong and very hardworking! She was all of our Nans! So, as I was about to go home on Monday, I went over to her and hugged her, we hugged for about ten seconds.
Then the following day, yesterday I suddenly thought, oh no we are not supposed to make any contact! And my paranoia went into overdrive! Had we given ourselves the coronavirus? That real fear was with me for about three hours. I know we got to die someday, but I didn't want it to be yesterday. But thankfully I was able to reason with myself that I was alright and that if Sylvia was to pass away too this week it wouldn't be because of the hug. Scary times.
Yesterday while I was at home enjoying my annual leave, I had a phone call from one of my co-workers. That two of my co-workers was told to, "Go home!" one because she is eighty and the other because he is unwell with a bad heart. Both were in, "Floods of tears," I was informed. Lance is only sixty and VERY hardworking! I don't have Lance's phone number but this morning I rang Sylvia, and I told her, "I'm SO sorry to hear about yesterday," She told me, "I have not stopped crying," I told her, "You have your telly and your mobile phone, in the olden days there was no mobiles and it would have been very bad without it, I will keep you informed with all that is happening at work, I will phone you daily, you are a strong woman, you have been through worse in you wonderful life." We chatted a while on the phone and she felt a tad better, she later texted me and said, "I'm, going back to bed, as I have had little sleep with all the tears." Sylvia had told them at work yesterday, "I will be depressed at home." Her hubby died a few years ago and she was 'happy,' to be at work so she would not be lonely all day at home. She feels like it's a, "Death sentence." But it's not, for she is very healthy.
Lance, on the other hand, was quite poorly, and to be honest I thought a few times he might die at work! He had planned on retiring this year, but certainly didn't want to go like this! He said to those at work yesterday, "I didn't want to leave like this," So, he has gone, and I didn't get a chance to say, "Goodbye" He was an awesome co-worker, very, very funny we always had a good laugh, yet hardly missed a days work in twenty years! Heartless times.
Elsie, she is seventy years old, she too has been told to, "Self-isolate," I don't work with her, but I have known her most of my life. She is a fantastic charity worker, she works voluntary and organises fates, barn dances, all the funds raised, goes to various charities, she is a-one-in-a-million. She is fit and healthy, she is a great example, to the youth around her, she helps the elderly and the poor. She is rarely home, her diary is full, and now this precious, hardworking woman has been told to, "Self-isolate," Because of her age. Ageism in action.
I've mentioned just three amazing people, but there are those who are not so fortunate, are fragile and unlike the three I've mentioned have no one, they are the ones without help, will die alone, cold and hungry!
I went to Tesco yesterday to do my brother's weekly shopping for him, for today but did it yesterday, (Just in case) And it was a strange shop, there wasn't any bread, no eggs, no flour, no pasta, no rice, no washing up-liquid, no loo rolls, no cereals, no kitchen paper, no baby wipes…. I bought him instead, wraps, and pitta bread, a fifty pence bubble bath for his dishes, as a recluse it will be hard for him, but he would have seen the news on his telly. He doesn't like wraps but he will have to make do.
I saw a Father and Son, it moved me, it was like they were in a Team, and what wasn't on their list, it was, "OK, we will have a substitute," And although what wasn't got from their list, there was still plenty in the shop for them to choose from, the Son looked about thirteen years old, and I thought, what an adventure, he will always remember it as something positive, and even if the Dad was worried on the inside, he never let on, a great role model in difficult times.
I try to go to the same staff at the till at my local Tesco, I always go to Maggie if possible. So yesterday I went to her till after I'd done my brothers shopping, she said, "I'm tired and my shoulders hurt and I have an headache," I did feel for her and the others, working SO hard at this strange time, seeing the good and the bad in customers. Greedy/lean times.
It has been said, "If twenty thousand or less die in the UK, due to the coronavirus, it will be good outcome," Sir Patrick Vallance.
My Church, late last night has cancelled all Services and given us info to keep in touch with each other and to watch the Services on-line, to look out for each other, I wonder how many will still be with us at the end of the year?
Keep safe. x