The Golden Ticket.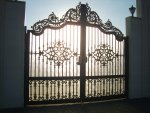 Tue, 26 May 2020
This morning I had the pleasure of meeting someone special. Agnes has special needs. Her Mum is elderly, and recently Agnes's elderly uncle died.
During the course of the conversation, while Sophia had gone to the corner shop, Agnes asked me several times, "When my Mum dies, can we go and visit her in Heaven?" That's not a question I am asked very often, in fact no one has ever asked me that question before. So, having given it some thought, I said, "No, if your Mum passed away, you wouldn't be able to visit her," I didn't see the point of not been honest, some things are just real life, even for a person with special needs.
Agnes did not let up, she kept on asking me the same question, and I didn't want to upset her, so in the end before her Mum returned, I said, "Yes when your Mum passes away, we will go and visit her in Heaven." She looked very relieved and smiled broadly.
Later on, back home, it got me thinking, wouldn't it be nice if that were possible, to have a Golden Ticket, to get to Heaven to visit just once, someone who I love.
It would be lovely if I could visit either:-  
One day after death.
Or
One year after death.
Or
Ten years after death.
One day after death, so I can say my "Goodbyes," As not everyone gets that chance.
One year after death, as grief is still raw.
Ten years after death, for what a great visit that would be!!
Not sure how I'd get there, or what I would wear, but it wouldn't matter, just seeing my Loved One, would be out of this World.
I would come back in peace, knowing they are happy.
How about You? Who would you visit for one day in Heaven?