Self Help.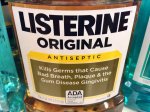 Fri, 24 Jul 2020
Have been trying to look after myself these last four months. If the Doctors were easily available, during the four months I would have gone, for my MOT from head to toe, but what I've done instead is have : -
Apple Cider Vinegar with Manuka Honey.
Extra Virgin Olive Oil.
Water Balance Tablets.
Seven Seas Cod Liver Oil. Omega-3 fish oil plus, in liquid.
Listerine.
………….And more.
I've have always used Listerine, but it's the original I still can't find in the shops, that's the best one, in my opinion in the meantime, I use the very weak flavours. I also bought a new toothbrush.
The Apple cider vinegar with Manuka Honey I bought last year in case I needed it in an emergency, as I'd heard so many good things about it. I decided to use it, it is gross. Then soon after I started using it, I read on Facebook, that "A small amount in a cold drink is fleshing." So, I tried that, and it's not! It still makes me shudder, no matter how small amount it put in, I can still taste it. But at the end of the day, it's still medicine for my body.
I was informed by a co-worker in the know, that I need to put my feet up and take water balance tablets, it does say on the pack, "Take two in the mornings and two in the evenings." But I can't take tablets! So, I take either one in the morning or one at night, it's matt finish, small and flat. With a lot of concentration, I swallow it without water, as there is no after taste and then take a sip or two of water. I became 'bold' and bought Seven Seas Cod Liver Oil, one-a-day omega-3 fish oil plus, for bones, heart, vision and brain. I didn't buy it on a whim, but having struggled with the liquid each morning with a whole orange to take away the taste, I thought next, I'd try the tablets. I opened it up and put one in my mouth without water, and nothing happened. It was too round to go down, and soon it began to melt, the taste was very bad, it made me gag, I had no orange at the ready and quickly had to put some quash juice in a glass, and swallow it to stop my water tablet coming back up! That was £5.50 wasted. The taste was intense, I gave it the dog, but he didn't want it either. I'll see who in my family wants the other 59 tablets.           
I've used Extra virgin oil over many years, but I've used it more often over these months.
We've recently bought a new mattress and it came with a free foam pillow.  I told my Hubby, "You can have the pillow." The pillow they state is worth £85 it is so tiny Paul used it for one night and said, "It is too small, I can't use it." It is about 3" high and 12" wide. For 3 nights it wasn't used, then I had an idea, I'd use it to put my feet on when I'm in bed, to see it as a, sort of raised. It's odd, but better than nothing. Finally, ……  
I should be having more sleep, but I still go to bed very late, but I do sleep a lot on the sofa.