The Love of the Loveless (Chapter 2) (2)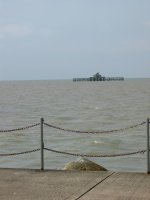 Mon, 25 Feb 2019
      I spent the rest of the afternoon sitting in the day room, chatting to clients, helping out.  Amanda was still there with her Tablet, rocking.  Bob was still fixated on his phone.  A few others were there, too, with their staff - drawing, looking at books, building something with the Lego.  Some of the others had gone out for a walk around the grounds.  I stepped out into the garden, where Shirley was sitting having her fingernails painted by Chantelle.  They were deep in some conversation that, from the voice tones I picked up, was clearly centred on Shirley's guileless questions and Chantelle's street-wise answers.  An interesting juxtaposition, there.  Shirley had lived over twice as long as her interlocuter and had clearly endured some horrific experiences - yet she was the one with the questions.  I doubted, somehow, that the answers she received would do much other than make her feel more stupid than she actually already felt.  She wasn't stupid by any means.  Like me, in some ways, she'd simply missed out on stuff.  It wasn't her fault.
      There was a laid-back late summer buzz outside, and the high fences made the garden a sun-trap.  But October wasn't far away.  You could feel it.  Another summer almost gone.  A quick one it had seemed, too, with the weather not really beginning to pick up until July.  I'd gotten into the habit lately - morbid, maybe, but there it is - of thinking of the span of my life as being in roughly the same place.  Closing in, with most of the excitement over.  The diagnosis had been a part of it, I suppose.  The constant thought that if I'd been diagnosed much earlier (childhood, certainly), things might have turned out a little differently.  Maybe I could have gotten some appropriate support sooner.  Maybe that might have helped me at school - given me a better start in life.  Maybe my marriage wouldn't have been such a struggle.  Maybe... maybe... maybe.  There was no way of knowing, of course.  What's past is past, and all that.  As some wise old philosopher had once said, life can only be understood backwards, but it has to be lived forwards.  At least I still had some ahead of me.  Maybe things would change...
      I went back indoors and made a cup of tea, then went and sat at a table near Ralph.  He was sitting alone with his playing cards.  His default activity, if nothing else was going on.  He'd lay the cards out left to right across the table, row upon row - seven rows of seven and a row of three at the bottom, always.  Then he'd move them around, using the row of three as a starting point - like they were key cards or something.  I'd watched him do this many times, trying to see if there was a method - some pattern he was trying to create.  Groups of red cards and black cards, maybe.  Or groups of picture cards.  Or arrangements by number or suit.  Or some combination of the three, even.  I couldn't see it, though.  Whenever I thought I'd worked it out, the next time the method would change.  It looked like it was completely random each time.  But I knew there was a method there, because he would study the layout first before making his moves - and they would always seem to be very deliberate, like he was following a plan.  Then, when he'd finished and was satisfied with the layout pattern he'd created, he'd nod his head - then mess them all up together, form them back into a pack and start over again.  It was fascinating to watch.  It always made me wonder about what was firing off inside that brain.  What the connections were telling him to do.  Learning disability or not, he had some internal logic system at work.  In another life, he could have been a code-breaker.  A computer programmer.  A chess grandmaster.  A conceptual artist.  Who knew?  I'd tried teaching him to play some card games with me, but he would never have it.  His own brand of Solitaire was all he wanted.  He could happily do it all day and never tire of it.  It was structure and routine for him.  His way of establishing order from the chaos of it all.  I could understand that.
      At three-thirty, the mini-buses pitched up to begin taking people home.  A few were picked up by their parents, who also started to arrive.  It was usually the cue for organised havoc - stuff being put away, washing up being taken out to the kitchen, bags being taken from lockers, coats being grabbed.  I walked out with Ralph and saw him onto the bus.  Shirley came up behind me.
      "Will?"
      "Yes, Shirley."
      She clutched my forearm and squeezed it hard, like she was about to stumble.  Her eyes were bulging again and there was an odd look in them - as if her whole sense of being and happiness rested on whether I gave the right answer to whatever it was she was going to ask.
      "Ha - have I had a good time today, Will?"
      I patted her hand and she loosened her grip.
      "What do you think, Shirley?  Has it felt like a good time?"
      "Yes," she said.  "I - I usually enjoy myself here."
      "Good.  That's what it's all about."
      "Is that what it's all about?"
      "Of course." 
      She stepped up onto the bus, then turned back.
      "Thank you for taking me out to the beach this morning."
      "You're welcome.  See you on Monday."
      She took her seat behind the driver and waved to me with clenched fingers - her freshly-painted nails blood red against her palm.  She had no family now, apart from a sister in Leicestershire whom she saw once a year.  I don't know the full story of the course her life had taken since the attack.  She'd only been in her early twenties at the time.  She lived now in a residential home with adults with learning disabilities.  It hardly seemed an appropriate environment for her, given her capabilities.  She was independent, and could go out on her own to do her own shopping, or go to the library or church.  She was too young for a retirement home, though, and I guessed it was the best thing available.  I think it was why she was so talkative and inquisitive.  She needed the stimulus of conversation with people.  She didn't really get that where she was. 
      I went back into the Centre just as the Whittaker's - Jill and Rich - arrived to pick up their daughter, Heather.  She was waiting in her wheelchair by the door, and squawked as soon as she saw them.  They were near-neighbours of Karen and Rod and knew them socially.  They were a lovely couple - softly-spoken and carrying an aura of calm which contrasted so much to Heather.  She had cerebral palsy, was confined to the chair, needed everything doing for her, including feeding.  She was verbal, but only inasmuch as repeating phrases she'd learned as a child.  It gave an insight into the childhood she must have had with such devoted parents.  You'd hear her sometimes, sitting looking out of the window.  'It's alright, Heather.  You don't need to cry.  We're right here.'  Her mood could swing quickly, though.  When it did - when a loud noise or something triggered her - she'd rock violently, swinging her arms out and shouting 'You don't need to worry, Heather.  Daddy's here, Heather.  Daddy's here.  Bring it down, now.  Bring it down.'  She was in her late-twenties now and there had been some deterioration in recent years.  The squawking was becoming more insistent.  It reminded me of the screeching noises monkeys make, or some birds.  They'd bring her in sometimes on a Monday morning, looking deflated and bleary-eyed, and say she'd been at it all weekend.  All night.  They were having to have more and more respite time.  But they didn't want to let her go anywhere else.  They were going to look after her in her own home for as long as they could.  I marvelled at the idea of such love.  Would I do the same if it was my son or daughter?  Would I have that resilience?  It was one of those things I couldn't know, and was never likely to now.
      "How's my darling been, then?" Rich said, as they crouched down in front of the chair.  Heather smiled and gurgled at them, lifting her hand and waving it at them.  She had such a lovely smile.  It was heartening to see.  It brought a lump to my throat, too.  Such love.
      Such love.
      Where does it come from?
      What does it mean?
(continued)