Pudding Detective - Chapter 1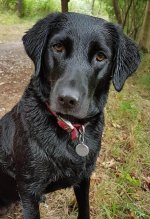 Thu, 04 Apr 2019
Pudding Detective
Chapter 1 – Pudding who?
Pudding yawned. It was hard work being a dog for even when she was asleep, she was working… 
Working? 'How can a dog be working when it's asleep?' Quite easily. For Pudding was no ordinary dog. She was puppy-faced cute with ears as soft as silk, and also had this amazing ability of tilting her head and looking at you in such a way that even the toughest boy in the class would give her his last piece of chocolate. She knew this. But then so did everyone else, though it sure didn't stop anyone giving her the attention she duly craved. She was clever all right. And sleep just made her look even cuter, with her legs bicycling in the air and her hairy little tummy blowing in and out. She was busy all right!
Now you might not think that this was enough work for a four-year-old black Labrador. You might even think that you look just as sweet yourself when tucked up in bed. You probably are thinking that none of the above makes her particularly unusual. Well, the truth is that Pudding was dreaming too… But not your run-of-the-mill dreams about playing football for England or flying through space. No. She was solving crimes. Actually, and more truthfully, she was dreaming of ways to solve crimes. Now, how out of the ordinary is that?
In order for dogs to become detectives lots of different things to be just right. And for dogs to be 'good' detectives requires even more still. Just like the Earth must have the sun and the rain for plants to grow, Pudding needed the same for her job. 
But as well as these, she also had to have lots of walks in the right places, plenty of carrots to see in the dark, loving owners, tonnes of sleep, and a great eye for detail. One more thing. She never, ever, ever missed a thing, even when in the depths of sleep - like a third eye. All of this completely set her apart from any other animal that also thought they had the credentials to be a dog detective.
* * *
When she was a puppy, Pudding was the naughtiest little thing you ever did see. Some of the things she got up to aren't really suitable for a children's book. However, as you've read this far I might just be able to share some of the gory details with you. I mean you don't get to be called Pudding for no good reason.
It's true to say that Pudding wasn't always a Pudding. She was a Luna, which is, if your language skills aren't that hot at the moment, Latin for the 'moon'. Because when she first travelled to her new home at just eight weeks old, it was the clearest moonlit autumn evening you ever did see. Above the car on the journey back from picking her up, and ducking in out of the leafless trees, was a beautiful full moon guiding her to a new life in the countryside. Whichever way the car turned, the moon was never far away, pulling them home as if it was some giant torch-lit magnet in the sky. 
So, as you can see, it was a pretty obvious choice for a name and seemed written in the stars. 
Pudding (no, Luna) soon found her feet (no, paws), on arriving in Forest Oak, a tranquil little village on the edge of the Chiltern Hills. And it didn't take long for training to begin. In fact, it started immediately they got home. Although it wasn't Luna that was being trained but rather her owners. She quickly learnt that looking sweet and cuddly was so very important for getting what she wanted. Little whimpers and cries; staring at you out of the corner of her eyes; resting her chin on your feet; and always giving you the mother of all greetings even when her owners had only been outside for one minute to take the bins out. These were just a few of her many tricks. And oh my, did they work! It wasn't long before Luna felt well and truly part of the family.
And if it wasn't for what occurred on Christmas day that year, she'd still be called by her old name and this story would never have been written. So let's get this one out of the way right now.
Question: How can you make a dog who is already the centre of attention even more the centre of attention? First you invite about a dozen puppy lovers to Christmas lunch. Then, you mix together a very excited puppy with lots of excited visitors. Finally, you add lots of yummy smelling food. Stir it all together, then sit back and wait. Voila! You have a waggy-tail wonderland! 
They say that wind turbines create a lot of electricity; well I'd say her tail could have produced enough power to keep the lights going all Christmas if she'd wanted to. And I don't mean just in her house, but let's say Oxford Street in London as well. 
Christmas: Turkey, trees, Santa, presents, family. Tick, tick, tick, tick, tick. What's missing? Ahh. Of course…
It looked so great perched on the edge of the kitchen surface, glistening with colour and brandy, smelling so sweet and fruity. But when all heads were turned, Luna pounced, just like her wolf ancestor would have done, right onto the kill. Before you could say, 'What was that noise? Where's Luna?' two thirds of it were inside her. By the time everyone arrived at the crime scene, the other third had followed the same way as the first two thirds. She had hoovered the lot, vacuumed it all away. Her tummy bulged and stretched, like one of those snakes that has gobbled up a prey much larger than itself. When they all arrived, she sat innocently - hazel-eyes like saucers, her tongue slapping all about her face. 
'PUDDING!!!'
Yes she was. The old name just had to go.
Call it the magic of Christmas, or maybe even the shiny, lucky twenty pence coin buried within it swallowed whole, but something more than her name had changed that day. She had gained something more than mere weight. Something greater. Something huge. It was so big and juicy that if it were food, Pudding herself might have even struggled to eat it.
Really? Wow! That's gigantic.