Smoke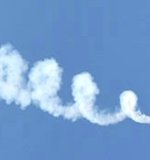 Mon, 13 Sep 2021
 
Above the roofs of the new builds,
distant smoke emerged that morning
as we stepped along a familiar path
white-winter breaths our sole companion.
I wondered what fuelled its rise
whether others had glimpsed it too,
corkscrewing sideways, like a child might make.
My expression didn't draw you to it
the way I had thought
you too busy placing feet in yesterday's footprints
but I still tried to pull you nearer
while it began to take over the sky.
Beneath the plume
I imagined someone in their garden, lost,
untwisting dead wood from new shoots before
forking it to a flame
or a brave man burning oil in a drum
warning us of revolution
and both tore through me as we turned that corner
our eyes smarting in puddles
one last attempt to get us closer.