The Craven Danger Radio Hour Video - Part One - The Biggest Gun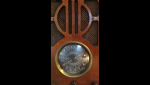 Mon, 19 Oct 2015
Thought I'd take a stab at bringing Craven to life. 
The Craven Danger Radio Hour
In Under Five Minutes
D
Craven Danger, where are you?
           G
I'm in trouble
                                         D
Won't you lend me your hand?
D
I saw your rates in the paper
            G                             D
And a dollar a day sounds grand
Let's see if Betty put that ad in the paper like I told her. Ah, here it is, Craven Danger - Private Detective. 'Have mercy on those who try to run, from the man who carries the biggest gun' Ah, geez, I never told her to write nothin' like that. My gun ain't no bigger than nobody else's. That's false advertising. Why does Betty always have to throw her two cents into my two cents when our cent's don't always go good together.
I'll have to give her a talkin' to. That's if she's talking to me. I don't know what I did to upset her this time, but she was awful mad yesterday. Let's see . . . I come in late to the office and I say, 'Hey, Betty, why don't you run down to the coffee shop and get me an Adam and Eve on a raft, and tell 'em not to wreck 'em this time. Three jelly donuts and a black coffee. No sugar. 'Cause all the sugar I need is gettin' me my mornin' coffee.' And that's when she left and never come back. I don't get it. I was sweet as pie. Maybe next time I shouldn't give her so many things to carry back.
Then again, maybe she left on account of there being no work. What with me never having a case. Two years and not one case. Hey, what's that? Looks like someone slipped a note under the door.
Let's see what it says.
Dear Mr. Danger,
I read your ad in the paper and wish to sock you in the nose. There's only one private eye in this neighborhood who carries the biggest gun, and that's me - Manny Moreso. And if you have any questions regarding this situation you can meet me at Ned's Tavern, tonight at five and I'll introduce you to my knuckles. They'll be very happy to finally meet up with you.
Signed,
Manny Moreso
P. S. Bring an ice pack. You're gonna need it.
Well, that certainly was a rude letter. He didn't even leave me so much as a 'yours truly,' or even a 'sincerely.' Maybe he just don't know proper letter writing etiquette. Maybe I better go down to Ned's like he says and explain how it was Betty that said I had the biggest gun. And then I'll explain to him how to properly end a letter. Formal or otherwise. Some people just don't know nothin' about nothin'. I better put on a tie. Oh, and where did I put that ice pack? He says I'm gonna need it.