A Halloween Kiss - A Craven Danger Mystery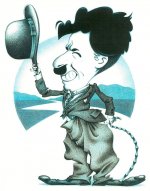 Sun, 30 Oct 2016
As soon as his hair calmed down, Craven Danger took aim and fired another round. Fortunately, his aim was its usual pointless self, and his intended target let him have it with both barrels.
"This is gonna hurt, Mr. Danger! And I ain't just whistlin' Dixie Doodle!"
"Betty! Is that you? Ah, geez it! How was I supposed to know? You certainly don't look like you. Now put that darn crowbar back on the pile before all my paperwork gets blown out the window."
"Paperwork? Ya mean that stack a crummy Trudy Blue Detective magazines?"
"Trudy Blue ain't never been crummy! She's diamonds and donuts as far as I'm concerned. And you still ain't told me what you're doin' all gussied up like a broken arm!"
"Ah, for cripes sake, Mr. Danger. It's Halloween and I'm a mummy, ya dummy!"
"Halloween? Halloween's for kids! I grew outta that a long time ago! I matured!"
"The only thing that's matured on you is the sagebrush between your ears. Now put on this costume, 'cause the kids from the neighborhood will be out trick or treatin'. We need to be ready."
Betty handed Craven a derby hat, baggy pants, ill-fitting jacket, mustache and cane.
"Hey, Betty. Where's the rest of this mustache?"
"There aint' no rest to it, Mr. Danger. You're gonna be Chaplin. Now get ready. The kids'll be knockin' any time now."
"Well, I hope you got enough apples and nuts to hand out."
"Apples and nuts? What kinda kid wants apples and nuts? I'm gonna give 'em that big stash a Hershey kisses I found in your desk."
"What!"
"Ya, know, the chocolates you was plannin' on givin' me, but still haven't figured out the special occasion yet. Well, I just took the bull bull by the tail and made up your mind for ya. Today is Halloween. This is gonna be Betty's special day. Any objections?"
"The whole darn stash?"
"Either that, or I go for the crowbar again."
"In that case, I'll be ready in a few minutes. A little privacy if you don't mind."
"Ya better hurrry, Mr. Danger. I'll bet that knock on the door is our first bunch a trick or treaters. I'll meet you at the door."
When Betty opened the front door she was greeted by a local band of hoodlums called the Sling Shot Brigade.
"Give us yer candy if ya know what's good for ya!" said Sal, the gang's ten year-old leader.
"An' who are you supposed ta be?"
"The Artful Dodger. Now fork over the goods."
Betty pulled the Dodger's top hat down over his ears."
"Yer gonna be nice or yer goin' back down the stairs the hard way! Got me?"
The Dodger squirmed and nodded in agreement.
"And that goes for yer band a pirates, too! You'll be walkin' a plank off the roof top if ya don't behave!
"Now, who wants some chocolates?"
The gang opened their treat sacks and Betty fed them with some kisses.
"Hey, Betty," said Craven. "I'm ready. How do I look?"
"Not ready enough, Mr. Danger. Ya forgot the derby hat. Ya look more like Ad--"
"Hey fellas!" yelled the Dodger. "It's Adolph Hitler! Open fire!"
"Wait! No!" said Craven.
But Craven's cries fell on deaf ears and he was fired upon with an array of raisins, nuts and apples by the Sling Shot Brigade."
Later that evening.
"Those kids oughta get the chair for this, Betty! Look at my poor face! It's got welts!"
"It's was the derby, Mr. Danger. Ya shoulda wore the derby."
Photo source: https://commons.wikimedia.org/wiki/Charlie_Chaplin#/media/File:Chaplin_c...