How We Manage III - Nature vs. the Machine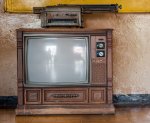 Sun, 17 May 2020
My heart beating louder than a big bass drum. That's a line from the Stone's song Bitch. I know how Mick feels. I've been going on daily hikes during these days of isolation. Nothing crazy, three to five miles a day. Nothing treacherous about my walk, either. But when you're sixty-six with asthma, even tying your own shoelaces can have you re-think your need to put shoes on at all. 
Walking helps to get the down-on-myself-demons out of my head, and keeps me away from binging and other forms of procrastination — for exactly one hour and forty-five minutes. Then it's back to the real world. People started building houses with living rooms for one reason only: to get away from nature.
In the pre-corona olden days a comfortable chair and a good book sounded nicer than sucking wind through a Covid-19 mask. Also, Dead To Me and Run are cued up for my immediate attention. We have a Smart TV, and I feel the need to pay it proper homage for all its educated ways. When I was a kid my television was about as dumb-witted as I was. It couldn't even make itself produce a program in living color. If I ever write an autobiography its title will be. TV, Dearest. It'a All On You. 
One thing frightens me, though. If I leave the Smart TV on and unattended for a period, the Smart Ass TV will display a series of random photos from my cellphone.  My concern is not for myself. But what if, hypothetically speaking, I innocently save a questionable photo from the internet? Picture the scene: My wife and I are settled in for a rollicking night of TV fun. We pause whatever movie we're watching to go get a refreshing beverage from the kitchen. Why, we've even been know to — doctors be damned! — butter-up some salted popcorn to make it a real rootin' tootin' soiree. We return to our seats in the living room and my wife turns to me and says, "Why are there random pictures of sweaty looking women, wearing tool belts, floating across the TV screen." 
You see my dilemma? All I can think to say is, "Well, you know what a fixer-upper nut I am. I find women who can slap together a two-tier backyard deck inspiring."
I'm not actually a fixer-upper. I follow fixer-upper escapades on the House and Garden channel. It's like reading a good book. There's beginning, a middle, and an end to it all. And whenever a tool-belt clad fixer-upper completes her project, I feel equally satisfied, and I didn't even break a sweat. Not a drop. Drank coffee and ate cookies through the whole ordeal. I never had to leave the house. Sweet.
Another few weeks of this and I'll have to find a Diet channel I can fixate on.
Cheers to all, and keep rooting for the good guys.