I Forgot All About That - A Craven Danger Mystery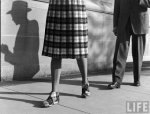 Thu, 12 Mar 2015
A special thanks to Stan for challenging me to write a parody of the Lerner and Loewe song I Remember It Well from Gigi.
I Forgot All About That
Craven: I picked you up.
Betty: We took the bus.
Craven: I paid the fare.
Betty: And made a fuss.
Craven: Oh, yeah, I forgot all about that. 
We ate some steaks.
Betty: It was pizza pie.
Craven: With lotsa onions.
Betty: That made me cry.
Craven: Oh, yeah, I forgot all about that, too. 
It rained like heck!
Betty: It snowed all night. I paid the check.
Craven: Oh, yeah, that's right.
Betty: It steams me that you still only remember what you wanna remember, Mr. Danger.
Craven: Oh, yeah, I'm always forgeting about that. It was Easter.
Betty: It was Christmas.
Craven: Our first date. And I hope you remember it. Except for the part where I stepped in the horse manure and we went on that carriage ride in Central Park and you ended up throwing my smelly shoes overboard and I had to walk you home to Brooklyn in my bare feet. 
Betty: You had on socks.
Craven: They had some holes.
Betty: You slipped on ice, and broke your nose.
Craven: Oh, yeah, I forgot all about that. 
Then you kissed me
Betty: In your dreams.
Craven: I heard violins.
Betty: You heard me scream
Craven: Oh, yeah, hard to believe, but I forgot about that.
You sure were loud
Betty: You sure were rude
Craven: Was I too bold?
Betty: Just a little crude
How drab you were, in your suit a gray. 
But I grew ta love ya, anyways.
Craven: Oh, yeah, the suit I remember.