Me Ol' China Joe - Part One - A Craven Danger Mystery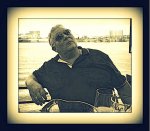 Sat, 17 Sep 2016
London, 1 September 1948
Sidney Green pulled his cab up to the curb and honked the horn.
"You mind tellin' me again why we hadda haul this cab all the way across an ocean on that stinkin' freight ship?"
"It's like this, Mr. Danger," said Sidney "I like my steering wheel right where it is, on the left side of the car, where God and the laws of nature intended. And as for the freight ship? It don't take no onion head to figure that one out, Mr. Einstein. We're all broke! And workin' our way across the ocean to London was the only way to go. Besides, Betty said you could use some culture. There's more to life then just baseball and hot dogs, ya know.  Ain't that right Betty"
In the backseat Betty Felcher lifted her head off Craven Danger's shoulder and wiped the sleep from her eyes.
"Culture and a payin' job," said Betty. "Maybe this private detective business ain't your line a work, Mr. Danger. Ain't nothin' up your alley these days but tumbleweeds. We've been refundin' more dollars than we been rakin' in. And I figure this rake has seen it's last crinkly green back. And I can't believe I just had ta wash a million and one dishes ta pay for the first vacation ya ever decided take me on."
"I resent that, Betty! I got at least a dozen big leads and dozen more potential clients back home!"
"What ya got is a dozen empty egg baskets, Mr. Danger. And a dozen empty egg baskets don't put no steak and potatoes in this poor girls ever shrinkin' belly. Look. Even my feet are losin' weight. And what's that smell?"
"Oh, that's just the smell of blood and guts," said Sidney. "We're in my friend Joe's neck a the woods. He's just gettin' out about now."
"Joe?" said Craven.
"He's the East End butcher."
"East End butcher! Exactly how many has this Joe butchered?"
"Oh, several hundred. Maybe thousands."
"And they're lettin' him outta jail? Back home he'd be gettin' the chair with all that electricity attached to his head!"
"Oh, for corn sakes, Mr. Danger. He's just gettin' outta work! He's a butcher. They call him the East End butcher 'cause that's where he got his trainin'. There he is now!"
Sidney jumped from the front seat of his cab and scooted around to greet his old wartime friend.
"Ah, me 'ol China Joe! So good ta see ya!"
Joe greeted his old friend with a  body crushin' hug and a grin as sweet as the sunny blue sky.
"Ah, me old mate Sidney! Good to see ya! It's been ages since we had ourselves a pub crawl. You and your mates up to it? Remember, I'm buyin'! So if I catch any one of ya reachin' into your pockets I'll give ya a good bollickin'! Understood?"
Betty poked her head out of the cab window and gave Joe the once over.
"Oh, I wouldn't worry about us and our pockets. Ya can count on us not to do any reachin'. And ya sure are a fine figure of a man, dear Joe."
"I like ta live large, good woman. The world is not only my oyster. It's the seven seas and all that dwell within. And what be your name, pretty lady"
"I'm Betty Felcher and this here lug behind me is Craven Danger. He's a private detective and I'm his personal assistant."
"Ah, Holmes and Watson out on a pub crawl. Ya won't be disappointed. Ya might even meet a miscreant or two along the way. In fact, I can guarantee it."
Craven Danger reached his hand over Betty's shoulder.
"Pleasure ta meet ya, Joe."
Joe gripped Craven's paw with the what appeared to be a vise grip with fingers. Craven buried his face into the back of Betty's jacket and let out a silent scream.
"The pleasure's all his," said Betty. "I think. Ya okay back there, Mr. Danger?"
Craven did his best to unclench his teeth and attempt a feeble smile.
"Fine, thanks," said Craven. "I may have to eat left handed from now on, but I'm just fine. Really."
"Glad ta hear, Mr. Craven," said Joe.
"It's Mr. Danger," said Craven.
"But I knda like Mr. Craven. Ya don't mind, do ya?"
"If it gets me out of another handshake. No. Not at all."
"All right, then, Mr. Craven! Let's shove off. I'm hungry and thirsty."
"Hop in the front seat next ta me and FDR, Joe."
"FDR?"
"My German Shepard."
"I love it. I have a handsome Labradoodle  named Churchill! This was destiny, dear Sidney. Now, for the first order of business. We're off to the Hangman's Noose on the Thames for some much needed refreshments!"
Hangman's Noose? thought Craven. This can't be good.
"I love it!" said Betty. "Sounds dangerous."
"You don't know the half of it," said Joe. "But not ta worry. I've got me old army pistol with me. Off we go!"
No, groaned Craven. Not good at all.
Photo credit: Betty Felcher