Read All About It! - A Craven Danger Mystery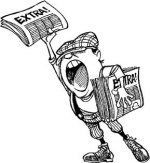 Fri, 08 Aug 2014
"Extra! Extra! Read all about it! Get ya mornin' paper here!"
"Read all about what?" said Craven Danger. 
The newspaper boy eyed the private detective from head to toe and wasn't enjoying the  experience. He then spat a wad of chewing tobacco between Craven's two-tone shoes and threw Craven a cold sneer.
"Well, if I told ya all about it, ya wouldn't have ta buy no paper, now would ya? Three lousy pennies gets ya what I'm sellin', mister."
"Didn't your mother ever tell you it ain't polite to spit?"
"Nah. She was too busy tellin' me how ta squash bed bugs like you."
"None of your wise remarks, kid! Just give me a paper. You got change for a quarter?"
"I got no change at all, mister."
"You're runnin' a pretty sad operation here if you can't even change a quarter."
"I give all the pennies I had ta my mudder, who's in the hospital havin' another one a me. I was tryin' ta talk her out of it this mornin', but she said it was too late. It's comin' whether I like it or not, and that I shoulda said somethin' last year when that shoe salesman showed up at the door and didn't leave till all the beers and bananas was gone. Now, with junior comin', that's one less lump a coal in my stockin' this Christmas."
"Ah, that's tough, kid. Tell you what. You keep the change. Better yet, here's another new shiny quarter. Only, make sure you give them to your mother. Deal?"
"Deal, mister! Gee, that's awful swell of ya! I'll tell ya what. Since ya paid for them anyway, ya can have all the papers I got. Here ya go! I gotta get back ta the hospital and see my mudder. And maybe even a new baby brudder! So long, mister!"
The newsboy dropped the newspapers at Craven's feet and ran off whistling a cheery tune.
"There you are!" said Betty. "I been lookin' all over the neighborhood! How hard is it to go out and get a mornin' paper? Ya know I can't start my day without readin' the horoscopes."
"I never understood that, Betty. You readin' other people's horoscopes to figure out your day. Shouldn't you be readin' your own?
"It ain't me I'm worried about, Mr. Danger. It's those other people I gotta keep an eye on. For instance, there's that crabby waitress, Miriam, from the coffee shop. The one I don't like? She's a Scorpio. And yesterday's paper said Scorpios was gonna feel generous and good-natured. So I hurry on down to the coffee shop ta see if I was gonna benefit from all this generosity, and wouldn't ya know it, they tell me Miriam just dropped dead and they was givin' away free cups a coffee in her memory. I tell ya, Mr. Danger. Who's luckier than me? And all because I read the horoscopes."
"You can't beat it with a stick, Betty."
So, whaddaya doin' with all those papers? I only asked for one."
"It's a long story that only cost me two new shiny quarters. I was feelin' kind of generous myself. But here's your paper, Betty. Go check the landlord's horoscope. Maybe he's in a generous mood today and  won't raise the rent. Then he can go drop dead, too."
"Speakin' a raises, Mr. Danger. I ain't had one in two years."
"Would you quit razzin' me about raises, Betty. How many times do I have to say it? You can't get blood from a stone!"
"Ya can if ya bounce one off someone's head. Ya may even get a lump outta the deal."
"Very funny. So, what's the scoop on the horoscopes?"
"It says here that Scorpios are feelin' generous and good-natured. Which tells me that I'm reading the same paper that you brought ta the office yesterday. Which also tells me that you've been snookered outta two new shiny quarters, Mr. Danger."
"Yesterday's paper! Let me have a look at that!"
"Now it's tellin' me that a neighborhood crap game is bein' funded by a sappy private detective who wouldn't know a con game if it pulled both pockets outta its trousers and convinced him they was  elephant ears. So, whaddaya gotta say for ya self?"
Craven picked up the pile of newspapers at his feet and started walking east on 87th street.
"Where ya goin', Mr. Danger?"
"I'm goin' where the action is, Betty, and get back my four bits!"
Well, thought Betty, that's another new pair of two-tone shoes he won't be walkin' home in.