The Sloucher - A Craven Danger Mystery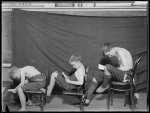 Fri, 13 Sep 2019
"Hey, Mr. Danger. Please! I need you to save me!"
Little Joey Gains scooted under Craven Danger's desk, locking himself in the fetal position.
"Save you from what, kid? You're only eight years old. You won't need saving till you're old enough to cut yourself loose from the tribe. As far as I can see you got at least ten good years of free cookies and good-night kisses coming your way. Enjoy them while you can, they're hard to come by once you're tossed into the ring with the rest of us animals."
"I'll take my chances on the outside, Mr. Danger. Anything's better than school. I ain't ever going back, and Ma can't make me."
"I wouldn't bet your lunch money on it. I once saw your ma haul your ol' man off a barstool, wrap him around her neck like a feathered boa, and toss him in the back of his own scraps-for-the-war-effort pick-up truck; then drive off with a ninety-mile-an-hour grin on her kisser. I wouldn't go second-guessing your ma when it comes to keeping the family in line. She's a pretty gutsy lady."
"My pop don't drink, Mr. Danger."
"Exactly, kid. Your ma don't suffer slackers. And just what is it you got against school anyway?"
"It's not the school, Mr. Danger. It's what's inside the school."
"Oh, I get it, kid. You got a bully problem. Well, you come to the right man. When I was your age I was always being picked on."
"You got beat up for your lunch money, too?"
"Nah. I was on the free-lunch program. I got beat up for walking around school like a wet noodle. They used to call me the sloucher. I didn't stand up straight until I was twelve. And that was only because my worst nightmare – Johnny Knuckles – locked me in my own locker for a whole day. It was humiliating. Come three o'clock, they let me out, and it took the school janitor two hours to unravel me from all the duct tape. But I never did slouch again."
"If you're trying to make me feel better about bullies, Mr. Danger, it ain't working."
"Okay. Maybe that wasn't such a good story to tell."
When the buzzer on the intercom sounded, Craven chose to ignore it.
"Ain't you going to answer that, Mr. Danger," said Joey.
"Not on your life, kid. Betty's not going to horn in on me trying to give you sound advice. Not this time, anyway."
"I know you're in there, Mr. Danger," said Betty. "I can feel you squirming at twenty paces. Answer me when I buzz you."
"Don't let her bully you, Mr. Danger," said Joey. "Remember. You ain't a sloucher. Stand tall and show her who's boss. Otherwise she'll be duct-taping you for the rest of your life."
"Kid, you got a lot to learn about life. Now move over and make room for me under that desk. We'll shoot some dice till this whole thing blows over."
Photo courtesy of Wiki Commons: https://commons.wikimedia.org/w/index.php?sort=relevance&search=bad+posture&title=Special%3ASearch&profile=advanc
ed&fulltext=1&advancedSearch-current=%7B%7D&ns0=1&ns6=1&ns12=1&ns14=1&ns100=1&ns106=1#/media/File:Title-_Bad_postures_(19264389759).jpg