True nature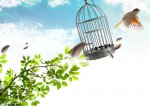 Sat, 09 Dec 2017
1 likes
Higher. Wider. Deeper. It has to be there.
It's going around, they whisper about it.
If I am standing upright, I catch a glimpse
of it. A location right behind the horizon.
Perhaps, it's true. Maybe a full life dwells
in the hollow clouds that are floating over.
Perhaps passion resides in the bulgy wind
that is passing by. I'm not able to touch it.
Am I lacking spirit? Do I miss fortitude?
While I'm here. Living under an oak roof.
Nothing is going around. No one reports
anything. But for sure it's present. I paint
the walls of my living room. I put milk in
the fridge. All is established. Like a cross
linked to a word. Only when I do take off
my clothes, you will notice that I'm a bird.