When I was a Blue Cowboy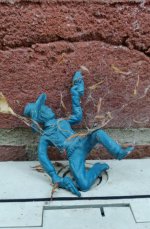 Wed, 22 Jun 2022
I remember when I 
was a blue cowboy,
waving red flags 
at the marshall.
Assigned to shoot my pistol
at aliens and strangers.
I danced inside a sandstorm.
In sunset boots, I kicked the dust
and walked for miles
in sightless storms,
in search of the horizon
I remember when I
was a blue cowboy,
eating my bully beef
or no doubt something like it.
My teeth cracked sand as
I watched, for I was watchman.
'Kill or be killed', they said,
as we lay back and 
listened to the near and far.
And shooting stars broke the sky
and pummelled mother earth.
Dead-ringers were my conradres,
in moulded forms 
and disappearing coats.
The desert couldn't choke us
but fate was duly swallowed,
as one by one they whistled
an ever distant discord.
The echo of a cowboy
in sempiternal blue,
buried only in suspension
in the hinterlands of time.