The BC Adventure 12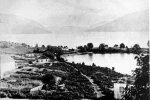 Thu, 14 Apr 2016
March 20, 1921
Dear Dorothy,
Una and Dick, Bammie and we invited the neighbours back for tea this afternoon. We had Mr. and Mrs. Scott and Beryl, the Springfords, the Inglises and Fred Jones. Beryl was her usual garrulous self – telling us all about her day yesterday, when a bunch of them had gone to Victoria to play hockey. She also managed to get in a visit to a musical. She told us all the people who played on both teams, and all the people who came to watch. Not that we knew any of them, but you can't deny her enthusiasm for everything she does.
We went to tea with the Aitkens, whose parents were early settlers, so I asked them
to tell me a bit about what they remember of those early days.
As well as a farm owner he became a major figure in local politics as a councilor and the vice-president of the BC Wool Growers Association.
Although the islands experience their fair share of rain in the fall and winter months, you can still only expect 35 inches or so each year. It is much dryer here than most other coastal areas to the east of us. Also the islands seem to escape most of the strong winds which often hit Victoria. We have 2000 hours of sunshine.
The Springfords are now finished building their new house, so I expect we will be
invited over for a house warming soon. They did offer to have us as boarders with them, but at the moment we are coping all right in our log cabin. It is nice to have space on our own, even though it is a bit primitive.
Love
Gwenllian