Chet and the Prisoners - 13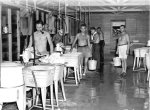 Sun, 23 Oct 2016
Toyo
13 April
The weather outdoors is ideal, and so I spend almost the entire day outside. Toward evening, I stroll outside and watch the Germans play softball. En route back to my quarters, I detour to No. 19 and listen to the latest camp gossip. At approximately 7:30 PM, the weather changes for the worse and the rain falls heavily with lightening and
thunder. I retire at 9:30 PM.
14 April
I go to the shoe shop to have my shoes mended. At 1:15 PM, I watch a softball game. The camp siren is sounded and roll call is taken. At 2:30 PM, I pick up my shoes. No news tonight. I have another letter from my wife, which I will detail here.
"Evacuees were instructed to bring with them sufficient blankets, bed linen and towels; toilet articles, soap, comb and mirror; adequate clothing; knives, forks, spoons, plates, bowls, cups; other small incidental property which can be carried easily.
"Our room is not as bad as we had anticipated. The horse smell is more or less gone. Each evacuee ws given an Army bed, one blanket and one straw tick.  We found the toilet block very difficult to begin with. The sink is a long metal trogh against one wall with a row of spigots for hot and cold water. Down the center of the room twelve toilets are arranged back to back, so it is very lacking in privacy. My mother was very upset by this to start with, but one gets used to it.
"I have seen the doctor and he says all is well with the baby. I have made friends
with others who have children the same sort of age as our daughter."
I change sheets and then go outdoors to watch a softball game. At 2:30, I go to Sears to purchase a pair of shoes and some stockings which I send to my wife and daughter in Santa Anita. I watch baseball again. The night is quiet.
16 April
I take a morning stroll. At 10:AM, I ask Mr. Shibata to help me write a letter for me in English so that I may inform my child of the package that I am sending. Roll call is taken and the all-clear signal given in about 45 minutes.
Following dinner, Mr. Suga informs me of some news that he has heard from Mr. Miyama about the death of thirty people at Santa Anita. The cause of their death is believed to be food poisoning. I frantically inquire about these deaths, but to no avail. No one can substantiate these reports. Talk is that Mr. Fukuhara is in receipt of a letter from
Santa Anita which comments on these deaths. However, Mr. Fukuhara is unable to shed any light on this incident. From him, I am met with an attitude of indifference. He is too absorbed in his game of hana-fuda. I am so worried about the health of my wife and child.  
17 April
At 10:00 AM, the wind velocity increases. I scribble some notations on the reverse side of some photographs taken while at Bismarck, and send a few to Santa Anita. Mr. Tanishita has fully recovered from his illness and is discharged after eighteen days of hospitalization. Those with surnames from A to M take blood tests, But pay for these tests.
18 April
I revise my draft of a letter for there is nothing else to do. Due to inclement weather, the scheduled sumo practice has been canceled. We are so pleased that this area for our sport has now been allowed.
I find that I prefer watching the Sumo wrestling rather than the soft ball, but Chet seems to always be watching the ball games, and he seems to be friendly with some of the Germans now. Max Emel is one of the few Germans who try this Japanese sport, and I am pleased to see that he was trounced,
After dinner, I have a hair cut and do some shopping. The amateur variety show for tonight has been canceled No news broadcast tonight. The interrogation and background checks of Seattle internees commences today.
19 April
It is another day of inactivity. Slightly after 2:00 PM, the siren sounds, but the all-clear signal is given forty-five minutes later. I wash my trousers. After dinner, I visit with Mr. Hamaguchi. At night, I take in a movie"Lloyds of London."
20 April
I do some laundering and take three shirts to the dry cleaners. At the cleaners, payment is required in advance. I watch more baseball. I take in my laundry. I receive one letter from my wife Takako and one letter from Mr. Iwasaki. My family did not get the food poisoning.
21 April
I wash clothes and write more letters. Between barracks, I till a patch of ground for a garden to plant the seeds Chet has given me. I listen to the news, but the news is routine today. I receive $10.00 in wages, and then proceed to the store to borrow the Sears catalog
22 April
I improvise and fix up a baseboard of sorts to improve and to help with the 'ironing' operations in the laundry room.