The Great Cley Floods 3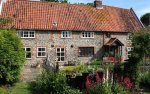 Wed, 09 Jul 2014
January 30th, 1853
It was some moments before Mary opened her eyes again, and somebody she didn't know was bending down to help her to her feet. Feeling totally disorientated, she looked around, and what she saw absolutely amazed her. The sea was covering the land between Cley and the next
seaside village, Blakeney, and as far back as the next inland village, Wiveton. And there were boats on the water, not little fishing boats or yachts as they often saw at Blakeney, but huge sailing ships. The woman who had come to her rescue was dressed very strangely in a long full gown, covered with a full-length black cape and she wore a warm bonnet.
"What's happening?" said Mary.
"I fear you have been hit by a branch from yon tree," said the woman. Mary had difficulty understanding the Norfolk accent at times, so different from her educated but decidedly West Country one, but this was different. It was an educated accent, but very odd sounding, as
if the person were trying to sound like people did hundreds of years before.
"I need to get back to my husband and babies," shouted Mary, but as she looked down the hill towards her house, she saw that it would be impossible to get there now. The sea had filled in the entire street and had covered the houses including her own to above the ground floor windows.
"Now the flood waters are up,there is no chance to get back down that road the night," said the
woman, "Best you come with me to my house, where you can get warmed by the fire and have a cup of tea."
Unwillingly, but not knowing what else to do, Mary was sobbing as she stumbled along in the
woman's path, back up the road and into Heron House. They went into the drawing room, which Mary noticed was lovely and warm. She saw that the room had a beautiful old fireplace, a window seat and French windows to the garden. The couch and chairs were elegant and surprisingly comfortable. The walls were covered with huge oil paintings in elaborately decorated gold frames. A card table had been left set out with four chairs around it and the packs of cards, score sheets and pencils were still in place.
"Who are you?" she asked her rescuer when she had been settled with a rug over her shoulders, near the fire. "I know you are not the current owner of Heron House. I don't know her by name, but I have seen her many times. I'm afraid when I was hit, it must have taken my senses right away."
"I am Mrs. Rebecca Jackson and of course this is Heron House. I am a widow and my daughter Rachel lives here with me. She is a Governess at Runton Hill Girls' School at West Runton, near Sheringham. Also living here, besides the servants of course, are Huge McGilway who is
the comptroller of customs. The customs offices are due to move to Wells soon, as our port is sadly diminishing in usefulness with the silting up, but he is welcome to stay here as long as he likes. Mr.
John Steward Swan is also here with me as a visitor. He comes from Perthshire and is an artist. But I don't know your name, child. I have not seen you in the village of late. Are you a visitor to Cley?"
"No, my husband, children and I have lived here since September. We rent Mallard House, down on
High Street, across from the Post Office."
"Post Office? The Post Office is not on High Street."
"The building with the bones built into the wall."
"Ah, yes, that is just a general store. Why ever do you think it is a post office?
"But it is. I go there to post my letters and buy stamps and there is a baker next door, and just
down the road is the general store Commerce House, which is run by the Starrs who also sell groceries."
" Starrs? You must mean the Starlings. They do not have a grocery in Cley, but they do have one
in Blakeney. You must be confused."
"And then the garage is just down from us." Mary went on and on trying to find some common ground with this woman who seemed to live in the same village and yet a very different place to how she knew it.
"Garage? What is that? I do not know what you mean."
"A place to get petrol and have your car mended. Do you not have a car? I would have thought
with such a wealthy house as this obviously is, you would have one."
"I don't know these words you are using, car, petrol. I do not know what it is you speak of."
"I wish I could let my husband know I'm all right. Do you have a phone? But of course we don't
have a phone but maybe we could telephone the George and have them pass a message on to him."
"What is this thing a phone?"
"It is something you talk into and your words go down a wire and into the phone at the other person's house," said Mary. She thought, "This poor woman really does live in the dark ages."
"When the water recedes, we can send a servant out with a message for your man. But before that
you must just sit and try to rest yourself. It will do you no good to get in a fuss over it, as I can see you are increasing."
"Increasing, oh, you mean I'm pregnant. Yes, I am. Nearly four months gone now and as my muscles are so stretched I look even farther along than that. The baby is just starting to kick."
The woman looked embarrassed and not a little annoyed. Mary wondered why and then thought perhaps Mrs. Jackson was not comfortable with the specific details of the pregnancy.
Then Rebecca surprised herself by saying something she had hardly expressed out loud before, and certainly not to a stranger. "I do so wish I had a grandchild. But my daughter is not yet married and
she is almost beyond her chance to make me a grandmother. So your baby will be born in June. That is a good time for a birth. You must bring the baby for me to see when she is old enough to be out."
"Well, of course, I will, if I can," said Mary, still confused by who this woman was and what exactly was going on.
The servant, whom the woman called Annie, brought in the tea, with a very beautiful porcelain tea
service, and a tiered cake plate holding a selection of home baked cakes and buns. Rebecca poured the tea, and handed a cup to Mary and told her to help herself to the cakes. Mary, who herself loved baking was very pleased to do so, and commented on how tasty everything was.
"What strange clothing you are wearing," said Mrs. Jackson. "I suppose it is what you call Bloomers. I have been reading about that wretched American woman in my Harpers Magazine,
and these sorts of garments seem to be featured occasionally in parts of the United States. And I have seen them in cartoons in Punch. But I wouldn't have thought to see them here in Cley."
"Bloomers? Of course, not. These are trousers, meant to be worn outside. Bloomers are worn underneath. Lots of women wear these now. They are very practical and comfortable." Mary wondered if Mrs. Jackson might be getting senile as she certainly seemed confused.
"But not very attractive and certainly not demure."
"Your long dress with its crinoline, as pretty as it is, cannot be very comfortable for you to wear, but then I expect that you are not required to do the sort of work in the house that I have to do. I need to do all the cleaning and cooking and we have an allotment off Church Lane which I tend. And I have two young children who make such a lot of work. We go down to the sea cockling, winkling, picking
samphire and looking for interesting stones. It is much more pleasant for me to be wearing my trousers than it would be to wear a long skirt such as you do."
"Well, whatever you say you do, I do not choose to do those things, and therefore do not need to
wear your strange sort of garment. I can see by looking at your hands that you do much hard work. Such a shame."
Mary self-consciously hid her large blunt-fingered hands, with short bitten fingernails.
"Annie Baines is my dressmaker. Her father is a draper. Anyway, tomorrow you can see her
and get her to make a proper dress for you, if you are to be seen in my house."
She went on, "I must apologise for the state of my house. I had three friends around for whist this
afternoon, and have not yet had time for Annie to tidy. Perhaps you know my friends: Mrs. Ramm, whose husband owns several ships, Miss Judith Fisher and Mrs. Hannah Lee, who are both living on their own, with servants of course.
"You say Mrs. Ramm's husband owns a ship. Whereabouts does he sail from?"
"From here, of course. Cley is a very prosperous harbour, although nothing like it was 100 years ago. His ships mainly sail to Rotterdam with grain, although we do send some salt as well from the workings here. Cley has about 115 registered vessels within this port, and another nearly 400 fishing boats, which as you probably know prefer to moor here as they are much more protected here than they would be in their own villages in the winter. We bring back coal."
"Who else in the village do you know?"
"Well, of course there is John Lee, the blacksmith, Thomas Doyle the grocer and baker, and John Shaw the butcher. I am fond of the Elsy shop where they have a hairdresser and glover, and many more of course. There are five public houses, the Fishermongers Arms, the George and Dragon, the Mariner's Arms which must be near where you say you live, the King's Head and the Swallows."
"Oh, we know the George and the Swallows," said Mary, "but not the others. In fact our house
is very close by to the George but I have never heard of the Mariner's Arms."
"John Waller runs the George and Dragon. He's also an auctioneer, and his son John helps him
with that. Their daughter Ihoma is a good friend of my daughter's.
"Oh no, that's not right!"
Not appreciating these interruptions, Mrs. Jackson continued, "The proprietor of the Mariner's Inn, which I think must be across the road from you, is Mr. William Gibbs. And very near you, I should think, is the baker, Mr. William Bastard (so unfortunate in his name).
"His wife is called Bridie, very common, and their have two sons John and Jabez (another dreadful name) and a daughter called Dorcas."
Mary was beginning to find all this difference of opinion very confusing, but their disagreement was
now interrupted by Annie who said that the bedroom that Mrs. Jackson had asked her to prepare for Mary was now ready. Mary knew she had no choice but to spend the night. Mrs. Jackson showed her to the room.
It was huge, almost as big as all of Mary's bedrooms put together, and very richly furnished,
with a four poster bed. By the bed was a dressing table with a pretty bowl and jug, hand painted with a poppy pattern, and filled with hot water. The wardrobe, chest of drawers and bedside table were all in mahogany, very ornate and heavy looking. There was an enormous fireplace, and Mrs. Jackson had asked for a fire to be lit, so that Mary would be warm and comfortable in the night.
"I feel so silly asking you this, but do you know what the date is?" asked Mary.
"Why it's January 30th, if I recollect correctly. What an odd question to ask."
"No, I mean, what year is it?"
"It's 1853, of course. Did you think we had lost a year while you were knocked silly?"
"No, I'm afraid it is 100 years I have lost, not one. You see, I live in 1953, a hundred years
later."
"What nonsense are you on about now?" The woman looked amused, but also somewhat worried as if she was perhaps harbouring someone not quite right in the head.
"I don't know how it happened, or why it happened but somehow when I left my house it was
100 years and a day later than you say it is now. I want to go back. I want to be with my family. I know you are very kind and I appreciate your offer of tea and a bed for the night, but I want to
go to my own home in my own century." Mary started sobbing uncontrollably.
"You will feel better after a night's rest," said Mrs. Jackson.
Mary soon calmed, and then had an idea. She found a piece of paper in the desk in her room, and a
quill pen and ink, and made note of all the names that Mrs. Jackson had told her. She stuck it in her trouser pocket, and then she settled down (disregarding the silk nightgown on offer) and fell asleep almost at once, despite her worries, perhaps a side-effect of the blow to her head.