Holiday in America - part 3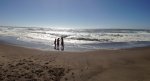 Fri, 29 Aug 2014
 Church was lovely. Kathleen and Mark go each week to a pretty modern church, and the priest, Father Pat, is an interesting man and a good friend of Marks. The service was much longer than I am used to – but the choir was excellent, and Kathleen, who used to be in it, sang all the songs
sitting next to me, in harmony. Her sight due to her macular degeneration is so poor that she had no hope of reading the prayers, but she certainly took it all in. Father Pat's sermon was long – and fairly boring. I kept thinking -"That's a good place to stop," but somehow he never got my mental message. Kathleen uses a walking frame since she had her stroke and then broke her leg – so she
always sits on the outside aisle near the front, and then the priest comes to her to give her communion. Not just her, of course, as there were lots of disabled people there. Afterwards, we talked to Father Pat for a few minutes. "I nearly missed you," he said to Mark. "You were sitting in the wrong place." We were late, and the usual place was taken, I guess. "You remember Jean, don't you?" said Mark. "Oh, is she the one who talks funny?" he said.
The plan for the rest of the day was for everyone to meet up in Boring, Oregon, where Janet
and Gary live. The drive is about 40 miles in land, towards Mt. Hood – a very beautiful place. They own a property of maybe 10 acres in a woodland. It sounds ideal but they have only just got ownership of it back after the bank sequestered it when Gary's business went bust about ten years ago. But things are looking up for them again. Janet is a nurse – and works three 12 hour days a week.
We all sat out in the back yard – probably about 25 of us in all, and had barbequed hamburgers and hotdogs, and all the usual fixings. It was a chance to catch up with the younger generation of my great nieces and nephew, several of whom are expecting babies, so that was a hot topic of
conversation. Janet's son Nate and his wife were having their first, and Mary K's son Morgan (with all the tatoos) and his wife were having their second. Rosie, Liz's daughter, had her baby Layla there (not such a baby now as she is over two) and she was a walking fashion model for two year olds. Michelle, Mary K's daughter was babysitting for friends who were both in jail for two weeks, so she had a baby that needed quite a lot of attention. She has no children of her own, but she made a very good substitute mother, although she had a cigarette dangling most of the time.
Jer (Mary K's) and Seth (Janet's) sons both grown up and with good jobs are both still unmarried. Jer wasn't feeling well, and that night he had an emergency appendectomy, luckily just in time as gangrene had set in, but nobody knew about it until the next day when it was all over.
Mark and Lis came a bit later than the rest of us, and she had brought Belle along for the
Minnesotans to admire. Chris and Thanh's children – Anna who is 11 and Lucas, 13, were the first to be introduced. Lucas freaked out and went to sit with his dad. But Anna and Blaire had a great time
stroking her and admiring her soft silky coat. Luckily I was a long way away and not asked to partake in the procedure. Mark's kids were not there. Bryce, who is in the middle of a divorce, has custody of his son on weekends, so he was busy with that. Mark's daughter, Angela, is the only one of Kathleen's grandchildren to leave the area. She lives in Pennsylvania, although Mark is hoping she will be moving with her two kids back to Portland soon.
After we had eaten and drunk to our satisfaction, we started singing. All of Kathleen's kids
play guitar and have excellent voices, and singing played a big part in their lives growing up. Janet got her guitar out, and we did all the old ones. I remembered when Neal (Kathleen's husband) was dying from cancer, he had his hospital bed in the living room at home, and all the kids gathered around and sang to him for those last few hours. But when they started "Hang Down Your Head Tom Dooley," he managed to say, "Please, not that one."
It was a good afternoon.
Kathleen is my half sister, and she is 17 years older than I am, so most of her kids are closer in age to me than she is (Mark is 8 years younger than me). But because she moved to Portland when I was only 5, I didn't really get to know her other than a few short vacation trips every four years or so. But in recently, we managed a trip to Portland every few years, and she and my sister Judy came to see me once, and she went on a bridge holiday to Spain with me once, and she and her kids (along with Larry and some of his kids) have come to England to visit when each of our daughters got married. Our son lived and worked in Portland for several years, so then we had an extra reason
to spend time there.
Monday we all were going to the sea – with Mary K and Kevin taking Kathleen and me.
Mark and Lis (who felt like she was badly discriminated against in the arranging of the beach party) were coming separately, and she was bringing the opposum with her. There's also a dog, Hank, which had belonged to her mother who is now in a nursing home. But Lis insisted that he was Mark's dog now, not hers, so it was up to Mark to find a place for it to stay. The beach house stipulated no pets. So Mark got Gary to agree to have it, and had to drive out to Boring with it, so
they were way behind us in starting. Mary K's car was very full, and Lis thought Kathleen should have her wheelchair with her there, but Mary K couldn't fit it in, and Lis refused to take it, saying that
Kathleen was Mary K's responsibility and that included all her extra bits and pieces. The atmosphere whenever Lis and Mary K were together was very tense. So no wheelchair was taken, but Kathleen managed with her walker – although she didn't get down to the sea at all during
the three days. People kept suggesting taking her down in their cars, but nobody did.
The trip to the beach was hot but the car was air conditioned, so no problem. We arrived
after the others, and they had sorted out who got which bedroom. Kathleen and I shared on the ground floor near one of the bathrooms. This was fine, except Kathleen needed to go to the toilet about every two hours (unlike her routine at home). I felt I had to go with her  on each trip, so she would find her way back to bed. But the second night, I let her go on her own, although I was awake so if she hadn't returned, I would have been aware of it.
Margaret and her daughter  Emily slept downstairs, and the only other beds down there were couches, but there was a pool table in constant use, so it was a noisy place to sleep. Rosie and Leyla shared a double bed, and Liz had a small one in a near by room. This caused a bit of fuss later, because it was felt that Rosie (a grandchild) was given much more of a treat that would have been expected of that generation, when Mark (a son) and Lis had no bedroom available for them when they eventually arrived. Larry slept in a small room, and Blaire, Carla and Cathy had a room together. Kevin and Mary K had a bedroom of their own too. Chris and her family had a separate apartment above the garage with their own bathroom and kitchen area. So they were very happy with
the arrangements. Mark and Lis decided that as the basement couches were all that was on offer for them, they would stay at a motel. We didn't see them at all on Tuesday or Wednesday until we got back. They were somewhat upset.
There were two big porches – which we used all the time, for socialising. It was hot, but there was enough of a breeze that it was comfortable outside most of the time. The girls had organised the meals with tacos the first night and lasagna the second – with muffins and cereals and juices
for breakfast – and lots of snack foods in between.
On Tuesday, most of us spent most of the day on the beach – with lots of very sunburnt people, especially Blaire and Cathy – as a result. The younger kids, including Anna and Lucas were in the sea jumping waves, and the others of us sat on the beach and watched or paddled a bit in the
water. It was a lovely area, not too crowded but we didn't see much boat activity in our area. (Picture above is of Anna, Cathy and Blaire)
On Wednesday we spent a little time by the sea, but had to be out by 11, so a lot of time was
needed in getting the dishes back in place and the place cleaned up. The next morning, Larry left to drive alone back to Minnesota, and Chris and her family moved to a different motel with a swimming pool.
After we got home again, it was the plan to go out to eat for Lis, Mark, Kathleen and me and we went to an Italian restaurant which was very good. Kathleen, as usual, ate sparsely, and wanted as much wine as she could get. She talks very little, but seems to understand most of the conversations and occasionally says something.
Thursday I was invited to go with Chris and her bunch to the big book store in Portland. We
had lunch there, and then went back to Kathleen's for awhile afterwards. That evening, I cooked the meal. Mark was out golfing with friends. Larry had left by then but they had had a couple of games of golf while he was there. Nobody much wanted to eat my chicken stir fry, but it was very good.
Friday was the 4th of July party at Margaret's. It started about 2, and some neighbours came as well, but mostly it was the family bunch, including Margaret and Rod's son Grant who had come home for the long weekend. We sat out in the back yard most of the day, and then moved to the front about 9 when the fireworks started in the park across the way. There was a new law in Oregon that you couldn't have big fireworks for private use – and you could only detonate it on the day itself. So things were much tamer than had previously been the case. We stayed till about 10 or so.
Saturday was my home day – and although the other Minnesotans were at the airport at the
same sort of time, I didn't see any of them. Mark gave me a lift there, and everything was straight forward and on time. The flight to Philadelphia was about four hours long – but not too tedious, but I
knew I had another five hour wait for my transatlantic flight. The hardest part was lugging my hand luggage around (no wheels) – as it weighed a lot with wooden boxes inside – but I managed somehow.
I still had some time on my phone (about 15 minutes worth) so I called Grace. She immediately asked me what I had done with her precious certificates – nursing ones for herself and her parents and her parents' wedding certificate. I knew that she wanted me to have them, because her friend Pat had shown me how she had put them on the back of the picture that I said I wanted, which she had considered sending to me. So I had rolled them up, and put them in my suitcase. But I hadn't
specifically mentioned this – and she thought I had thrown them away. So I guess she was somewhat reassured. Then she said, "I hate to even ask you this, but did you take my black pants?" Now it took me awhile to put this in context as I had been thinking of underpants and I certainly hadn't taken any of those. But when I remembered that trousers were pants, I said, Yes, I had taken black ones and white ones. But reminded her that she had said that all the clothes from her apartment that were left were going to charity, so I assumed she hadn't wanted any of it. I had also discussed her clothes and not wanting them with Pat. Grace had also said over and over again to
both Larry and me, "Take whatever you want." So I certainly didn't think I was doing anything dishonest in taking her trousers. But we both were upset by the conversation, and the phone call
quickly ended. I then called Larry, but he wasn't home yet, but I left a long message for him on his ansaphone about how Grace thought I was a thief.
Just before we were due to board our plane, there was an announcement that there was no
captain for our flight – the scheduled one had called in sick – so they were trying to get somebody else – but it might mean a couple of hours delay. But luckily a spare captain was found and we
were only a bit later on take off than scheduled and made up the time on route.
So that is the of my story, except for the fact that I hadn't enough English money to pay
for the taxi home (I couldn't face  waiting for a cheaper one, so took a black cab) £35. But the cabbie waited until I raided my bridge money pot inside, so all was well. I was very happy to be
home. When I called Grace to tell her I was home safe and would send back her clothes the next day, she said,"Oh please keep them. I am so happy that you can make use of them. And I have lots of black pants." But for some reason I don't feel much like wearing them any more.