Laura's Letters - 3 - The Next Year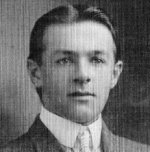 Sat, 10 Jan 2015
1 likes
December 10th, 1909
Dear Pa, Berte, Mary, Oscar and Agnes,
Merry Christmas to you all. And Happy Birthday to you, Berte. How annoying it must be for you to have your birthday so close to Christmas that you don't get two cards and presents. How are you? I know I don't get letters off to you very often, but we are so busy now. And you don't send that many to me either.
We managed to get the extra rooms built on our house after the harvest was in. Nick's dad and brother came to help, and Benjamin came over too. We now have two bedrooms, and then the big original room which is a living room, dining room and kitchen all in one. We got a new stove, as I was finding it so perishing cold. It is a pot belly one, and with the stove heating most of the time too, it isn't too bad now. We have had lots of snow already, and take the sled with the horses into Tappen to get supplies for a month at a time, because we never know when we will be too snowed in.
In answer to your question, I don't get to church all that often, as Nick (pictured above)  isn't interested in going. But there is a church in our nearest place, called Our Savior Lutheran Church, and the minister has a circuit so he goes there at least once a month. They are making that area into an official town now, called Pettibone. And our township will now be called Weiser, rather than Malcolm. That is really closer for us than Tappen, although it is still 14 miles away.
Maybe they'll have a grocery store there soon too. I sure hope so.
I wonder if sister Bertha has had her new baby yet. She will surely be busy with five children, all under aged 10. But at least Irene and Alice are old enough to be some help to her.
All for now. I have much food to prepare as I promised my mother-in-law I would do the baking for her.
Much love,
Laura
*****
I haven't much time to write in this book, but just thought I should make note of the fact that there was a great fire in Idaho and Montana, destroying 300 million acres and leaving 86 people dead. We
are very lucky as that sort of thing could have happened anywhere.
As far as other news, I suppose it is worth a mention that there is a new Democrat for a Governor in North Dakota, John Burke, and he is the first one who will have a three year term. I hope he does a good job.
 Other bits of news are that there was an airplane flight at an exhibition in Grand Forks by a man named Frank Kent. I can't imagine having a machine fly like that.
January 10th, 1910
Dear Bertha,
I am so pleased to hear that your new son has arrived, like a late Christmas package, and is well. Kenneth is a nice name. I know you will be so busy these days that you won't know which way is up. I wish we could come and visit you, but it is just too far, and we are so busy too. I am finding being a farmer's wife and housekeeper much harder than I had imagined, but Nick's mother does help me a lot, and teaches me things too. But her Dutch recipes are not the same as the Norwegian ones we had at home and sometimes I just wish I could do things my own way.
No, to answer your question, I am not expecting yet. But we hope to have a baby before too long. I do miss my teaching though, and I try to find time to do some reading and writing.
I have invited Josephine and William and Agnes over for dinner next Sunday as that is the closest time to her birthday. I'll invite Benjamin and Ole too, but they don't much like big family gatherings so might not come. It will be Josephine's last birthday before she is 30. William isn't very happy with living in North Dakota and keeps talking about going back to Saskatchewan. But he needs to wait the five years to prove his homestead, and that will take a few more years. Then he can sell it, and hopefully make some money from it.
I'm getting to know the neighborhood ladies a bit better now. We have quilting bees every few weeks, now that it's winter. I have to make quilts for the future, as when the children come, I won't have so much time to sew.
Wishing you well.
Love and kisses to all your lovely children
Laura
*****
April 15th
Dear Laura,
Thank you for your birthday message, and I am sending ours to you, hoping it will reach you in time. Isn't it fun having birthdays around the same time? I can't wait to come and visit you, now that you are an old married lady. And I hope you will have some new nieces or nephews for me to spoil when I come.
Mary's decided she wants to be a nurse, and is planning on going to nursing school at Deaconess Hospital in Butte, Montana. I think I might do that too, but they won't take me before I am 16, so I have awhile to wait. Oscar is thinking of going to Montana at the same time as Mary goes. He thinks he can get a job there, and he has never settled here in Wisconsin. Pa gets on his nerves, and he doesn't want to be a farmer. Pa is acting much older now, and with a bit of arthritis he finds it hard to get around so much, so he is making Oscar do all the men's jobs and Oscar feels really put upon. But I think Berte is trying to plan ahead and find some other place to live when Pa can't manage the farm anymore.
Do write and tell me all about the things you are doing now. I expect you are busy now that it is spring - with getting ready to plant the crops. What is your main crop? Do you keep chickens?
Love from your nearly turned teenage sister,
Agnes
*****
July 10th,1910
Dear Ida,
Happy Birthday soon to you, and thank you for your letter for my birthday. How are you getting on in Chicago. It must be such a different life from being in South Dakota - in tiny little Parker. How is Aunt Bertha getting on without you?
I got a long newsy letter from Agnes. She seems to think that Pa and Berte will be looking for a new place to move to before long. It sure would be nice to find a place that didn't have such extremes in
climate. I nearly froze to death this last winter, and now, here I am frying.
We went to a big shindig for the whole neighborhood on July 4th. Nick doesn't often take time off but he makes an exception for the 4th. We had a big group picnic, and everybody brought something. I made the potato salad, and did it like we had it at home, but some of the people prefer the Dutch or German way, where the dressing is really pretty sour with lots of vinegar. Most of the women around here came from Holland, but there are a few of us Norwegians and some with Swedish blood around here too.
I know that you are very holy now, with working on becoming a Deaconess and all. Will you be in charge of your own church when you finish? We don't get to church much, but I hope that when we have children, Nick will agree to having them christened. He doesn't hold much with religion. Sometimes I take the trap and drive myself to church over to Pettibone, but mostly I just don't go.
Agnes writes that she and Mary both want to be nurses. I think that would be a good job for a woman - and good training for being a mother later on.
Write when you have time. I love getting your letters.
Love
Laura
*****
August 1st, 1910
Dear Emma,
Of course, you can come to visit. Anytime will be fine. We have got our new rooms added on now, so you can sleep here in the spare room.
I am interested in all these questions you are asking about Harry Fisher. I did think he was quite taken with you last summer, and you with him. No, he is not married yet, and not courting so as I could tell. He just goes to the dances we have occasionally, but mostly stands on his own. I will be sure to let him know that you are coming and asking about him.
Can't wait to see you. We will try to get some socializing in, but I have to warn you that I will have to keep doing my jobs too, but you can help me with those, and then we will get finished in half the time and be able to do some gadding around. Nick doesn't mind if I use the buggy on Sundays, as he doesn't farm on that day anyway. Sometimes we go out places together, but he isn't much of a
socializer. His brother Len, is just the opposite. He loves going to the dances, and plays his fiddle and calls for them whenever he can. There is a place called Marslin Moore, a way northeast of here, where we often have dances.
Love
Laura
*****
October 20th, 1910
Dear Agnes,
Thank you so much for your letters, you are my best correspondent by far.
And you are the first one that I will be telling my news to, of the family. We are expecting our first baby. Probably he or she will come sometime around the end of April. I hear that Bertha is expecting again too, about the same time, maybe, so that will be nice - having a cousin more or less the same age. Maybe we can visit them when we go to the Lakes in June.
Well, I'll see if I can answer some of those questions you asked me about the Indians around here. We do sometimes see them walking along what they say is a right of way path - from Devil's Lake area in the northeast, going towards the settlements near Bismarck on the Missouri.
There are monuments around here relating to the war, so that is how I know about it. It was a long time ago now, and the Indians nowadays don't cause any trouble.
Around here the Indian War happened on July 26, 1863. The principal commanders were Brig. Gen. Henry Hastings Sibley, in charge of the Minnesota troops and Chief Inkpaduta with the Santee and Sioux Indians.
Brig. Gen. Sibley led his troops from Fort Ridgely, Minnesota, into the Dakotas, pursuing the Santee Sioux, who had initiated an uprising in the Minnesota River Valley in August 1862. The Santee had joined forces with the Teton Sioux. Having marched all day on July 24, 1863, Sibley's scouts, around 1:00 pm, reported that they had spotted a large Indian camp a few miles away. Sibley established his camp on a nearby salt lake and set his men to entrenching it for protection. While in the process of making camp, numerous Indians appeared expressing friendship. A number of them
approached the scouts gathered about 300-400 yards from the camp and began talking with them. Surgeon Josiah S. Weiser, 1st Regiment Minnesota Mounted Rangers, (our township was named after him) joined the assembly, but soon afterwards a Sioux shot and killed him. The scouts attempted to kill the attacker but he escaped. Indians who had hidden behind the surrounding ridges now emerged and attacked. In detachments, the soldiers went out to meet the Indians. Sibley, with some men, approached the "Big Mound" on the opposite side of the ravine. He attempted to dislodge those Sioux who were on the upper part of the large ravine firing at the infantry and cavalry with impunity. The Union forces displaced these and other well-placed Sioux in the surrounding ridges by accurate artillery fire and forced them into the broken prairie where they fled in confusion. The mounted troops, with some of the infantry and artillery following, set out in pursuit. A running battle ensued for the rest of the day. Before dark, the soldiers broke off the pursuit and returned to camp as previously ordered, some not arriving until the next morning. The Sioux forces were broken and dispirited.
Then Brig. Gen. Sibley and his men moved their camp about four miles and then rested till the next day. The morning of the 26th they set out and after marching about 14 miles, found the Sioux ready
for battle. At first, the fighting was long range because the Indians refrained from closing with the soldiers. The Indians did attempt to flank the left side of the camp and run off the mules. The Mounted Rangers and infantry, though, after heavy fighting, compelled the Indians to abandon their intentions. Following this setback, the Sioux retreated, ending the battle. Sibley resumed his march after the Indians the next day. The Sioux were on the run. That's about all I can tell you about the battles, but I can mention a bit more about what sorts of Indians we have living here. There are quite a few, and sometimes they live together.
The Arikara, which means "horns," or "elk," and having reference to their ancient manner of wearing the hair with two pieces of bone standing up, one on each side of the crest, are sometimes spoken of as a confederacy of smaller tribes each occupying its own village. Here is some of their history. From Nebraska, the Arikara gradually pushed north to the Missouri River where Lewis and Clark found them, reduced considerably in numbers, between Grand and Cannonball Rivers. In 1823
they attacked the boats of an American trader, killing 13 men and wounding others, and in consequence of this trouble they abandoned their lands. Two years later they returned to the Missouri, and by 1851 they had pushed as far north as Heart River. Meantime wars with
the Dakota and the smallpox of 1837 had reduced them so much that they were glad to open friendly relations in 1845 with two other tribes, similarly reduced, the Hidatsa and Mandan. In 1880 the Fort
Berthold Reservation was created for the three tribes, and the Arikara have ever since lived upon it, and on July 10, 1900, they became citizens of the United States.
The Hidatsa, which means "willows" are a part of the Sioux. According to tradition, the Hidatsa formerly lived by Devil's Lake. They moved from there to the mouth of Heart River, where they met and allied themselves with the Mandan, and from them they learned agriculture.
The Mandan Indians first reached the Missouri at the mouth of White River, South Dakota, whence they moved to Moreau River and thence to Heart River, where the Whites found them. In 1837 they were almost destroyed by smallpox, only 31 souls being left out of 1,600, according to one account.
The Mandan attained wide notoriety among the Whites from their intimate dealings with the early White explorers and traders in the upper Missouri region and from the fact that their customs and ceremonies were made particular matters of record and from the reputation these Indians acquired of an unusually light skin color and theories of Welsh origin. Some even have blue eyes.
As far as your question about what they are doing now, I noticed in the paper that quite a few of them are on a tour in England these days - doing wild west shows. 
"Native American (Sioux, Apache, Navajo) men, women and children stand in front of a backdrop that is painted with a landscape scene in a dirt arena at Buffalo Bill's Wild West Show, Golden West Exhibition, Earl's Court, London, England. The men's clothing includes feather headdresses, vests, buckskin shirts, robes, and leggings. The women wear dresses with elk teeth or beads.
This will have to be a long enough letter for one time or it won't fit in the envelope. If you have any more questions, write again, and I will try to answer them.
Love
from Laura