Letter from Burma 10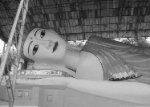 Fri, 26 Feb 2016
Heinda Mine
Tenasserim
Southern Burma
March 1, 1935
Dear Dorothy,
Our busy lives continue much as always. We seem to have guests nearly every day for
tiffin or tea or both. I shouldn't complain as I don't have to do the cooking, cleaning or washing up.
We went to dinner at Tangthonla.
We have some baby chicks - 13 now in all. We will put the hen over another 10 eggs in a few days time.
I heard about Bill Murray's death. Do you have any of the details? When was the funeral? Did you go?
We are having a water crisis at the moment. Not that it is something very different, it happens each year about this time. We need to get several carts in most days just for our basic needs. But now there is a flood in Number 2 Mine, and we have had no water carts for days. Thank goodness we can escape to Tavoy for next week.
Love,
Gwenllian
Heinda Mine
Tenasserim
Southern Burma
March 16, 1935
Dear Rosalind,
I have spent the last week in Tavoy, and for the benefit of your project, spent some
time researching the various pagodas hereabouts. Here is what I have found, along with a photograph.
The most venerated pagodas near Tavoy are the Shin Motehti Pagoda, a few miles south of the town, with very intricate metalworking on the various spires, Shin Datweh Pagoda in the north and I visited the Shin Maw Pagoda on the Tavoy promontory. The 243-foot long reclining Buddha image (pictured above)  is the largest in Burma. The statue is safely housed in a structure highly reminiscent of a giant Australian wool shed, is a nicely maintained place of worship that seemed to be well frequented. We gave a few
chat to help with its ongoing upkeep.
Anotherpagoda is located in Myo Haung Village (ancient name- Thargara City), about 10 miles from Tavoy. Myo Haung is believed to be an ancient site with ruined city walls.
Paya Gyi Thein Wa Kyaung is a famous monastery which houses many Buddha images as well as a figure of the Guardian of the Earth that devotees worship for their good health. 
Tavoy is one of the oldest ports in Burma and was mentioned by the merchant traveler
Ralph Fitch, who in 1583 became the first Englishman to set foot on Burmese soil. 
I will tell you about the pagodas which are nearer to us when I next write.
Love
Mummy