The Ring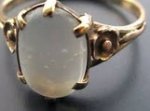 Thu, 10 Jul 2014
Having been told by my step-mother that I should have a good search through her apartment and take what I liked, really hit my gready bone. I am a sucker for sales and charity shops. As long as I think I'm getting something of value to me for little money, I buy it, no matter how much I don't need it. And now to be offered carte blanche on  the contents of an apartment - what fun.
Grace's apartment has two bedrooms, each with a stuffed closet, and several chests of drawers. First of all I do a general rummage - finding unopened presents that I sent her for Christmas years ago. I put those aside to take, along with anything with an English feel - tea towels, china dishes, Toby jugs, most of which were presents from me.
I was disappointed when I went through her closets. She had several pairs of almost new shoes, but they were too small for me. Most of her clothes were cutesy - and not at all my style - and others were old fashioned. But I did find a top and two pairs of trousers that fit and that I might have actually bought at a charity shop, so I put those to one side.
I only had two small suitcases, so I knew that I had to think small. So my most time consuming search was spent amongst her jewellery. I very seldom wear jewellery myself - other than my engagement ring - and again Grace's taste and mine were poles apart. She had dozens of boxes of necklaces and bracelets - and huge numbers of earrings which were of no use at all to me as my ears aren't pierced.
My eyes kept returning to a ring - the only one in the dresser which contained nothing but jewellery. Grace I noted was wearing three diamond rings on her ring finger of her left hand - probably the one from Dad, and one from her first husband, and then probably her mother's ring. So whose was this one? It was chunky and rather large for my finger, but when I slipped it on, it looked nice. The stone was large and white but opaque. It reminded me of the moon stones in the necklaces that my daughters had inherited from their English grandmother. There were two small sparkling side stones, probably diamond chips. The band was thick, 18K gold, marked on the back, and there was sort of a Celtic knot pattern on the front part of the band. I thought it must be antique, and guessed that it might have belonged to Grace's grandmother. All in all, I decided I liked it and I wanted it.
On my next visit to the nursing home, I told Grace that I had given her apartment a good rummage, and she was happy that I had done so - repeating again that I should take anything I liked. "I quite like the ring you have in your earring box," I said. "What do you know about it?"
"I don't really remember," she said. "Do take it if you want to," and she went on to discuss something else completely.
In my rooting, I was looking for items of interest historically speaking - because I had made up my mind that the nicest gift I could give Grace was to write a book about her life. The only piece I found was a tiny autograph book belonging to her mother, with comments from various classmates  such as, "May heaven protect and wisdom direct this naughty girl that I respect." by Myrto A Hugg, Jan 6, 1894. Grace's mother, another Grace, would have been about 14 at the time. So again I checked and got permission to add that to my plunder. I collected together clippings, certificates and photographs from her life, and was disappointed how little there was to build a story on.
Now that I'm home I've started my research. Waverley, Nebraska where the owner of the autograph book lived was very small in those days - 350 people or so. Probably the school had only a handful of pupils and all of them and the teacher wrote in her book. What a disappointment that most of the entries were banal and no doubt common sayings in those days .Her teacher, Ida Rhea, on the 28th of November, 1895  wrote,
" There is a simple little vine
That twines around the lines of time
May it bloom both day and night
And ever guide you thru to the right
Remembrance is a silken tie."
But back to the ring. I wore it when I left Bismarck, and although it was heavy and awkward, beings somewhat too big for my finger, I decided I really did like it. I thought that the original owner was called Mary Jane Rhodes, Grace's grandmother, who'd written something inspiring and religious sounding in the book. I also had her photo - and although nothing outstanding occurred to me when I looked at it, she looked pleasant enough. I talked to her in my head, telling her that I would write a story about her - maybe using her ring as the focus as it was inherited down the generations.
I had company on my first night back, and I showed the ring to my son-in-law and granddaughter, Susannah, and they made suitable noises of interest.
And by noon the next day it had gone. I was in town, having done a big shop and been to the card shop and post office, and was about to get the ring valued when I looked at my hand and the ring wasn't there. I searched through my bags - I retraced my route - I called back in at all the shops asking if a ring had been handed in - but of course, it hadn't.
I tried to remember all the things I had done since the last time I knew that I had the ring - and realised that there were all sorts of potential places where it might have fallen from my finger. I had chopped huge branches off the buddlia tree and stuffed them into the green bin - which of course had been emptied before I discovered my loss. I had mown the grass, and dumped the cuttings on the garden, but sifting through them found nothing. A ring might have caught the eye of the many huge pidgeons who spend most of their day on my roof.
So now I have to rethink my book - and forget about the ring being the focus. I hope very much that I find it, but rather doubt it. Like with the portrait, I have again let down the ancestors.